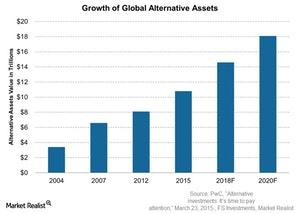 Investment Options to Consider in a Volatile Market
By IndexIQ

Updated
IndexIQ
That won't go on forever. Eventually, the markets will seize on a new worry, or revisit an old one, and things will be different. History suggests that this may happen suddenly, and without much in the way of warning. Many liquid alternative funds were designed with exactly this in mind. By investing in non-correlated asset classes, they offer investors continued market exposure, paired with the potential to mitigate downside participation.
Article continues below advertisement
Market Realist
Traditional investments: The downside in a volatile market
Since the 2008 economic crisis, obtaining higher returns only through traditional investments (SPY) (SPX-INDEX) (IVV) has become quite difficult. Investors now can't depend only on a traditional stock-bond portfolio since economic fundamentals keep fluctuating. Even though the bull run in the equity market (VOO) continues, nothing is certain in the stock market.
Some investors, seeking to protect or enhance returns, have turned to alternative investments. This asset class has a low correlation with traditional investments and may help mitigate downside risk during time of marketing volatility. Alternative investments offer a diversified set of asset classes to chose from, depending on investor requirements. The various types include commodities, real estate, start-ups, infrastructure, hedge funds, and venture capital. The chart above shows the popularity that alternative investments have gained as an asset class. The value of alternative investments has grown significantly since 2004. The amount is expected to rise by a CAGR (compound annual growth rate) of ~11% to $18.1 trillion over the 2015–2020 period.
Despite the benefits offered by traditional alternatives, their less liquid feature is one downside of these investments.
What are liquid alternative funds?
This is where liquid alternative funds come into the picture. They are types of mutual funds or ETFs that offer investor exposure to alternative investment strategies. They can help expand reward and risk opportunities. A key differentiator is the fact that these funds are more liquid in nature. Furthermore, they offer diversification benefits just like any other alternative investment. The diversification benefits allow an investor the potential to enhance returns for a given level of risk or reduce the risk for a certain level of returns potential.
The chart above shows the growth in liquid alternative fund markets since the 2008 financial crisis. Investing in liquid alternative funds diversifies an investor's portfolio and can protect against a downside risk.