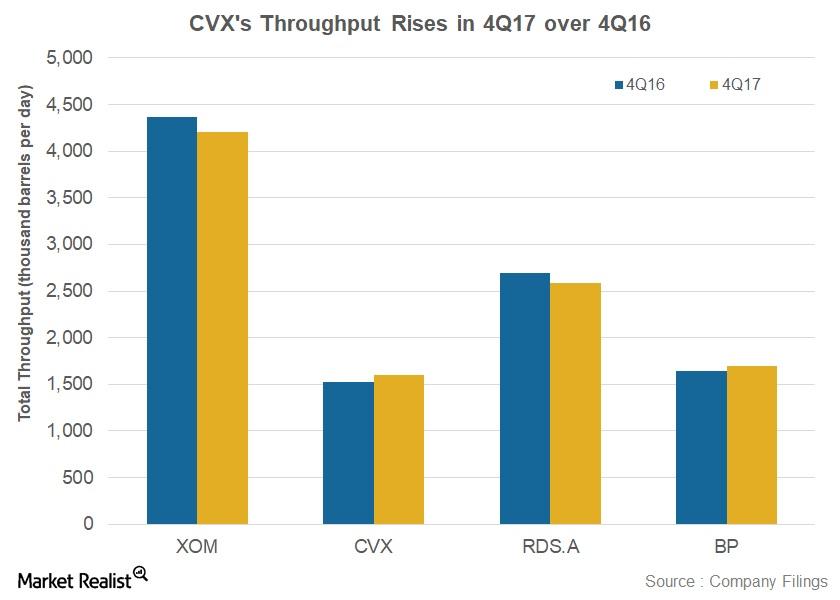 Integrated Energy Companies' Downstream Performance in 4Q17
By Maitali Ramkumar

Feb. 23 2018, Updated 9:03 a.m. ET
Integrated energy companies' downstream performance: Throughput in 4Q17
Integrated energy companies' refining throughput shows the quantity of oil and other feedstock processed to generate refined products. ExxonMobil (XOM) had a throughput of 4,207,000 barrels per day or Mbpd in 4Q17. This number is the highest among the integrated energy companies analyzed in this series: ExxonMobil (XOM), Chevron (CVX), Royal Dutch Shell (RDS.A), and BP (BP).
Chevron had the lowest throughput of 1,595 Mbpd in 4Q17. BP and Shell's refinery throughputs stood at 1,698 Mbpd and 2,589 Mbpd, in 4Q17, respectively.
Article continues below advertisement
CVX and BP's throughput rose 4.8% YoY and 3.3% YoY in 4Q17. Chevron's refinery throughput rose in the United States from 721,000 barrels per day (or MBD) in 4Q16 to 834 MBD in 4Q17. This rise was due to the absence of turnaround activities in the Richmond refinery in 4Q17. This rise was partly offset by the impact of Hurricane Nate at the Pascagoula refinery and turnaround activities at the El Segundo refinery in 4Q17. However, international downstream throughputs fell from 801 MBD in 4Q16 to 761 MBD in 4Q17. This fall was due to the impact of the sale of Chevron's Canadian asset.
However, XOM and Shell's throughput fell 3.8% and 4.0% YoY, respectively. The fall in Shell's throughput was due to the sale of the Port Dickson refinery in Malaysia. Excluding the impact of the sale, XOM's throughput was up 1% YoY.
Trading activity in integrated energy firms
Now, let's look at the integrated energy companies' trading volumes as a percentage of refined product sales. Usually, everything else being equal, margins for trading refined products are lower than margins on sales of refined products.
For comparison, consider that the trading percentage has been estimated as a difference between sales volume and refining throughput, divided by sales. So any refining gains or other items leading to adjusted refining volumes have been ignored. These estimates could, therefore, differ with the exact traded volumes in these companies.
In 4Q17, BP's (BP) estimated trading percentage stood the tallest compared to XOM, CVX, and Shell. In the quarter, BP sold 6,350 Mbpd of refined product, of which it could be estimated (from the above calculation) that 73% was traded volumes. Similarly, Shell marketed 6,861 Mbpd of refined fuels, which consisted 62% of the estimated traded volumes. Exxon Mobil (XOM) had the lowest estimated trading percentage that stood at 25% in 4Q17. XOM sold 5,624 Mbpd of refined products in 4Q17. Chevron's trading percentage apparently stood at 41% of its 2,690 Mbpd in refined product sales volumes in 4Q17.