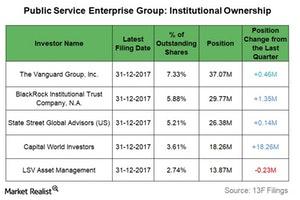 Institutional Investment in PEG in 4Q17
Public Service Enterprise Group
The Vanguard Group added net 0.46 million shares of Public Service Enterprise Group (PEG) in 4Q17. It held 7.33% of PEG's total outstanding shares as of December 31.
BlackRock Institutional Trust, the second-biggest institutional investor in PEG, added net 1.35 million shares of PEG, which took its total stake up to 5.88% at the end of 4Q17.
Capital World Investors added a notable 18.26 million shares in Public Service Enterprise Group in 4Q17. It held 3.61% of PEG's total outstanding shares as of December 31. LSV Asset Management decreased its stake in PEG to 2.74% in 4Q17 and sold net 0.23 million shares.
Article continues below advertisement
Price targets
According to Wall Street analyst estimates, Public Service Enterprise Group has a mean price target of $53.4, which indicates an estimated gain of nearly 9% for the next 12 months. It's currently trading at $49.2.
Public Service Enterprise Group stock was better placed amid recent weakness among broader utilities (IDU). In the last year, it has gained more than 11%, while broader utilities (XLU) lost nearly 4%. In the same period, broader markets rose almost 15%.
Utilities showed some signs of recovery recently after their two-month weakness. To learn more about their recent performance and where they might head from here, see Utilities' Recent Performance, Volatility Trends, and Charts.
Visit our Power Utilities page for more.