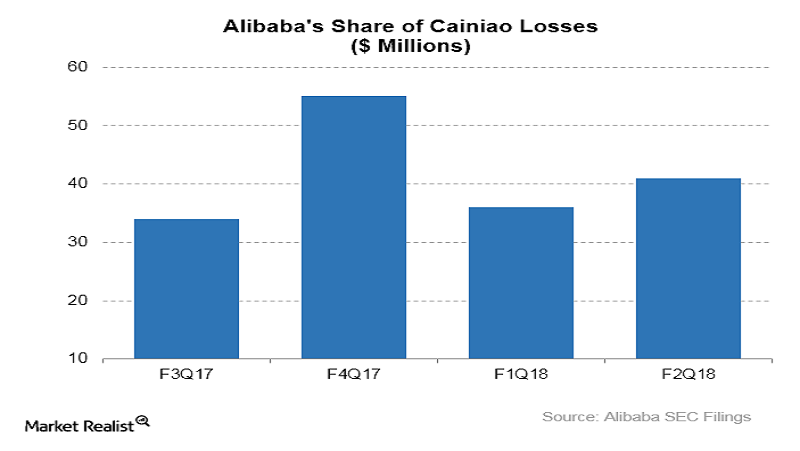 An Inside Look at Alibaba's Logistics Business
By Neha Gupta

Feb. 16 2018, Updated 9:00 a.m. ET
BABA's revenues from Cainiao
In fiscal 3Q18 (December quarter), Alibaba (BABA) received $600 million in revenues from Cainiao Network, a logistics services firm in which Alibaba owns a controlling stake. The Cainiao revenues represented 5.0% of Alibaba's overall revenues for the quarter.
Alibaba's overall revenues rose 56% YoY (year-over-year) in fiscal 3Q18, and the company said that Cainiao was instrumental in driving that growth. During last year's Single's Day, Cainiao processed about 812 million logistics orders, and in that process, it helped Alibaba grow its 2017 Single's Day sales 39% YoY.
Alibaba didn't book a loss due to Cainiao in fiscal 3Q18, but the business caused Alibaba a loss of $41 million in fiscal 2Q18 and a loss of $36 million in fiscal 1Q18.
Article continues below advertisement
Delivery speed reshaping e-commerce competition
For e-commerce companies—regardless of whether they are based in the US like Amazon.com (AMZN), eBay (EBAY), and Wal-Mart Stores (WMT) or in China like Alibaba and JD.com (JD)—delivery speed is reshaping the game.
While Amazon and JD are interested in leveraging drones to speed up deliveries, Walmart has considered bringing its employees into its delivery system by having them deliver orders to customers on their way home from work.
Alibaba, for its part, is aiming to fulfill orders in China within 24 hours and cross-border orders within 72 hours.
A $15-billion investment over five years
Alibaba is leaning on Cainiao to help speed up its deliveries. Alibaba last year made an additional investment of about $800 million in Cainiao to gain a majority stake in the business. It pledged to inject about $15 billion into Cainiao over the next five years as part of expanding its global logistics network.
In addition to delivering Alibaba orders, Cainiao also helps merchants outside Alibaba's platforms to ship orders to customers. This also presents Alibaba with an opportunity to profit from the growing demand for delivery services as e-commerce penetration deepens globally.
In the next and final part of this series, we'll discuss why Alibaba is interested in the online grocery industry in India.