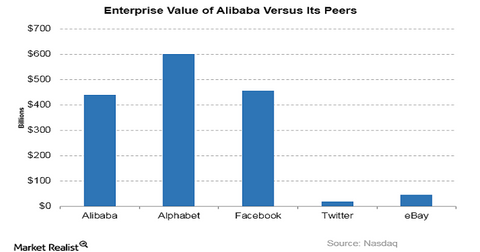 Inside Alibaba: A Fundamental Analysis
By Neha Gupta

Updated
A look at Alibaba's enterprise value and related multiple
Alibaba (BABA) boasts an EV (enterprise value) of $438.5 billion for 2017.
By comparison, Alphabet (GOOG), Facebook (FB), Twitter (TWTR), and eBay (EBAY)—Alibaba's peer companies in the Internet sector—boast EVs of $600.1 billion, $456.7 billion, $19.9 billion, and $45.7 billion, respectively.
But how does Alibaba's EV compare with its adjusted EBITDA (earnings before interest, tax, depreciation, and amortization) for the last 12 months?
The company's EV-to-adjusted EBITDA for the trailing 12 months comes to 32.7x. That compares with its expected EV-to-EBITDA of 25.7x for 2018. Alibaba's EBITDA margin for 2017 was 37%.
A further look at the company's EV ratios shows that its EV-to-sales for the trailing 12 months is 12.9x and that its anticipated EV-to-sales for 2018 is 8.04x. Alibaba's trailing-12-month EV-to-cash flow is 22.8x, compared with its trailing-12-month EV-to-free-cash-flow of 23.4x.
Article continues below advertisement
A look at Alibaba's debt position
Alibaba's balance sheet reflects short-term debt and long-term debt of $0.9 billion and $18.9 billion, respectively. That puts its total debt at $19.9 billion. The company reported total capital of $85.9 billion. So if you work out Alibaba's total-debt-to-total-capital ratio, we get 23.1%.
The company's debt-to-assets, debt-to-equity, and debt-to-EBITDA work out to 0.18, 36.9, and 1.52, respectively. In terms of its interest coverage ratio, we find that Alibaba has an EBIT-to-interest ratio of 89.6x. Its debt-to-EV ratio is 5%.
All eyes on Alibaba's price multiple
Alibaba's book value per share works out to $21.2, while its estimated book value per share is $23.7. The stock is trading at a price-to-book value of 7.8x, while its price-to-sales ratio was 12.3x for 2017. Its estimated price-to-sales ratio for 2018 is 11.3x.
Continue to the next part for a closer look at Alibaba's shopper metrics.