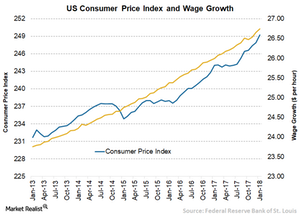 Why Inflation Expectations Are Likely to Remain Muted
By VanEck

Feb. 26 2018, Published 9:08 a.m. ET
VanEck
Structural Changes in Economy, Demographics Likely to Mute Inflation
While inflation could pick up, we do not believe it will reach levels that might drive gold. In fact, we believe there have been structural changes in the economy that mute the inflationary cycles that goods and services experienced in the past. Globalization, immigration, and technology have evolved to enable companies to produce as much as needed to meet demand. Bottlenecks do not last. Everything has become commoditized. Competition is intense. E-commerce drives retail. Low wage immigrants take unwanted jobs. Many companies are announcing one-time bonuses and other perks with the new tax cuts. At this time, we have not heard of any company announcing permanent wage increases. Contracting, outsourcing, and automation keep wage growth low. Demographics are also anti-inflationary as boomers move into harvest mode. For years the Fed has failed to raise inflation to its targeted 2% by flooding the economy with liquidity. That liquidity, instead of raising consumer price inflation in the real economy, has generated asset price inflation in the financial economy — stocks, bonds, real estate, cryptocurrencies, art, etc. Now the Fed is tightening. Gold or gold stocks are seen as a real economy inflation hedge, however we do not see it as a significant driver in 2018.
Article continues below advertisement
Market Realist
Inflation unlikely to sustain at a higher level
January's higher-than-expected consumer price index generated worries that the Federal Reserve might start raising interest rates aggressively. However, some of the data aren't conclusive enough to point to a sustained rise in inflationary trends. Data from the United States Department of Labor showed that the cost of apparel (VDC), which accounts for 3% of the consumer price index, rose 1.7% in January. It's important to note that clothing is a seasonal phenomenon that's expected to slow down in the coming months, thus taming inflation expectations.
Decline in retail sales
Another factor that indicates a not-so-robust expansion in consumer (IYC) (XLP) prices is the decline in retail (XRT) (IBUY) sales. According to the U.S. Department of Commerce, US retail sales declined 0.3% in January, the largest decline in a year. The fall in retail sales was mainly aided by weak auto and building materials sales. Although wages are picking up, they're not expected to rise rapidly enough to have any meaningful impact on consumer prices.
While the Federal Reserve is likely to raise rates this year, the European Central Bank and the Bank of Japan are still trying to generate inflation and are continuing with stimulus measures. They're both unlikely to raise interest rates well into 2019.
Against this background, inflation probably won't see a sharp rise in the coming months. We may see a gradual rise in inflation rather than any runaway rise.