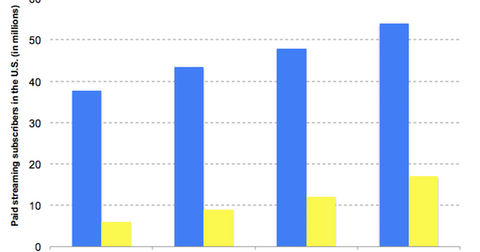 Why Hulu's Losses Deepened in 2017
By Sanmit Amin

Updated
Hulu posted a loss of $920 million in 2017
Video streaming company Hulu posted a loss of $920.0 million in 2017, compared to a loss of $531.0 million in 2016. According to disclosures by Comcast (CMCSA), Hulu's parent company, Comcast, Fox (FOXA), Disney (DIS), and Time Warner (TWX) invested $1.0 billion in Hulu. This investment was targeted for new original programming and its new live TV service.
Comcast, Disney, and Fox have each have a 30.0% stake in Hulu, and Time Warner has a 10.0% stake. If Disney's bid to acquire Fox goes through, the combined entity could own 60.0% of Hulu.
Article continues below advertisement
Hulu is still well behind Netflix
Hulu faces stiff competition from Netflix (NFLX) and Amazon (AMZN), which have also spent aggressively on original content. In January 2018, Hulu announced that it had 17.0 million subscribers in the US, an increase of 40.0% from the previous year. Hulu stated in January 2018 that its ad revenues topped $1.0 billion for the first time in 2017.
Hulu also said it has the industry's largest video library at the end of 2017, comprising more than 75,000 episodes. This number is estimated to be more than double the number of episodes in Netflix's and Amazon's libraries.
While Hulu has a smaller subscriber base than Netflix in the US, it also has a young subscriber base with a median age of 31.