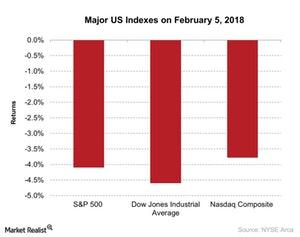 US Equity Market Sell-Off: Dan Loeb Weighs In on 4 Risks
By Sarah Sands

Updated
Equity market sell-off on Monday
On Monday, February 5, 2018, the US equity market saw a huge sell-off. That day, the S&P 500 (SPX-INDEX), the Dow Jones Industrial Average (DJIA-INDEX), and the NASDAQ Composite (COMP-INDEX) fell 113 points (4.1%), 1,175 points (4.6%), and 273 points (3.8%), respectively.
The S&P 500 (SPY) saw its largest drop since August 2011. After rallying for the last 15 months, the major US indexes are showing signs of nervousness. Previously, we discussed prominent investment company Goldman Sachs's (GS) warning that "correction signals are flashing." Investors reducing their cash positions and the entry of large amounts of cash into the equity market may suggest a correction in the coming months.
On the other hand, the market has performed strongly in the past few months, mainly driven by improved fundamental factors and global growth. However, according to various analysts, these leading indicators have peaked, which is a major concern for market movement.
Article continues below advertisement
Dan Loeb on the four key risks
According to CNBC, billionaire investor and Third Point CEO Dan Loeb believes four key risks—decelerating growth, rising inflation, low earnings growth, and recession—could stop the market rally in the near future. In this series, we'll discuss each risk and analyze how it could affect market movement. In the next part of this series, we'll analyze Dan Loeb's views on growth and inflation.