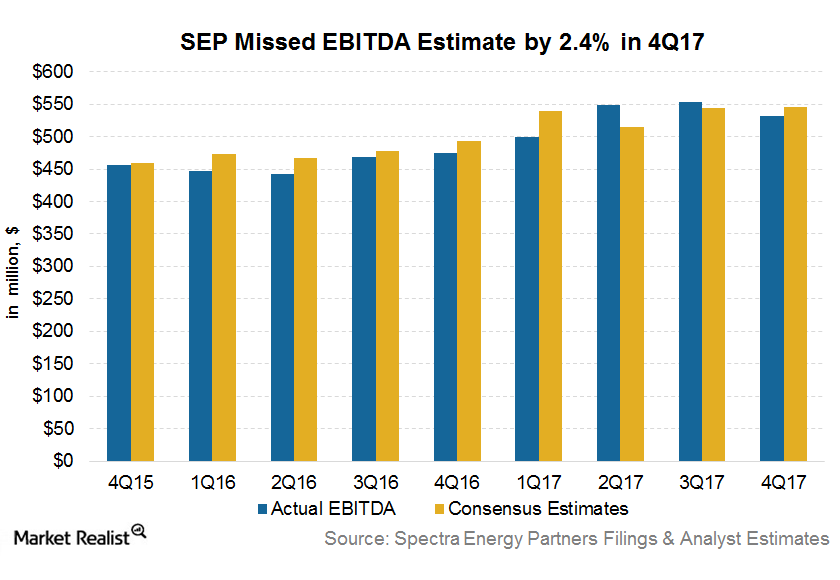 How US Tax Cuts Impacted Spectra Energy Partners' 4Q17 Earnings
By Kurt Gallon

Nov. 20 2020, Updated 11:46 a.m. ET
4Q17 and 2017 earnings
Spectra Energy Partners (SEP), a midstream MLP mainly involved in natural gas and NGLs (natural gas liquids) transportation and storage, reported operating revenue of -$138 million in 4Q17 compared to $663 million in the same quarter of the previous year.
Recent US tax reforms impacted the partnership's 4Q17 revenue. It saw an $860 million noncash charge in the quarter, reflecting the impact of tax reforms on the partnership's future rate case settlements with the FERC (Federal Energy Regulatory Corporation). However, the partnership won't see any material impact of the tax reforms on its cash flows during the 2018–2020 period. SEP's peer Williams Partners (WPZ) included a similar charge in its 4Q17 results and 2018 guidance. For details, read Analyzing Williams Companies' and Williams Partners' 4Q17 Results.
Article continues below advertisement
Spectra Energy Partners' ongoing EBITDA (earnings before interest, tax, depreciation, and amortization), which was adjusted for the noncash charge, was $532 million in 4Q17 compared to $510 million in 4Q16. This represented a YoY rise of 4.3%. However, the partnership missed its EBITDA estimate by 2.4%. For the whole of 2017, SEP posted EBITDA growth of 16.6%. Expansion projects placed into service mainly drove the YoY growth in the partnership's ongoing EBITDA. This growth was partially offset by higher operating and maintenance expenses.
4Q17 distribution
SEP announced distribution per unit of $0.74 for 4Q17, which represented a 7.3% rise compared to the same quarter in the previous year and a 1.7% rise compared to the previous quarter. This was the 41st consecutive quarter of distribution growth for SEP.
Based on its recent distribution, SEP is trading at an attractive distribution yield of 7.4%. Despite its distribution growth, SEP continued to cover its distributions in 4Q17 due to its strong 17.7% YoY distributable cash flow growth in 2017 over 2016.
Article continues below advertisement
The partnership's coverage is expected to fall in 2018 resulting from its 172.5 million equity issuances to Enbridge (ENB) as part of their IDR (incentive distribution rights) elimination and GP (general partner) conversion transaction. ENB held the IDRs and economic GP interest in SEP before the completion of this transaction. ENB expects the transaction "to be breakeven to SEP's distributable cash flow per common unit by the second half of 2019 and be accretive thereafter" as noted in the related press release.
Analysts' recommendations
Spectra Energy Partners has seen two ratings updates in 2018 so far, and both were downgrades from "buy" to "hold." A total of 44.4% of analysts have rated Spectra Energy Partners as a "buy," 38.9% have rated it as a "hold," and the remaining 16.7% have rated it as a "sell" as of February 22, 2018. SEP's average target price of $45.9 implies a ~14% upside potential from its current price level.