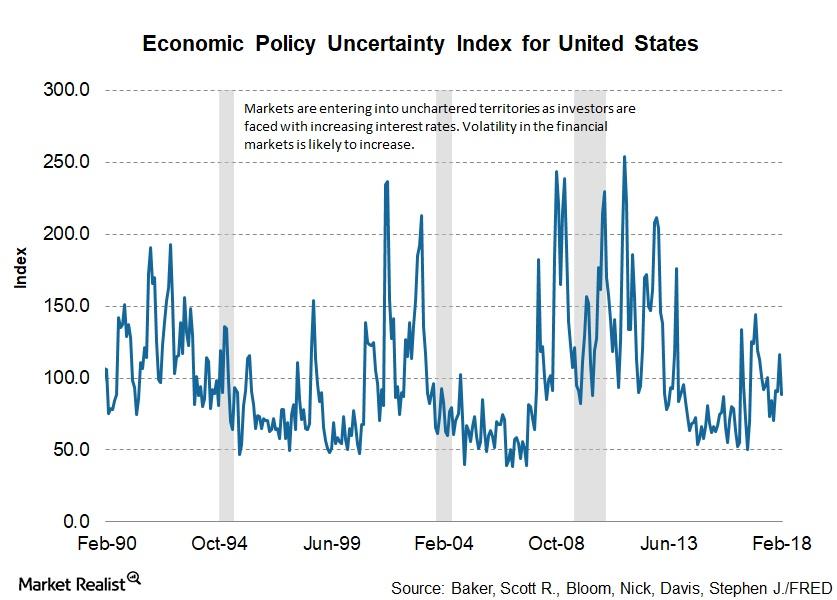 How the FOMC Views the US Financial Situation
By Ricky Cove

Feb. 23 2018, Published 2:39 p.m. ET
Investor sentiment remains robust
The FOMC staff review indicated that the US investor sentiment has improved in the inter-meeting period. This brief was prepared before the market correction that began in the last week of January, so it doesn't reflect that drawdown. The outlook, however, points to continued economic growth in the US and abroad. The report indicated that the tax legislation appeared to have improved investor sentiment, which translated into higher US equity prices and Treasury (GOVT) yields. The improvement in foreign economic data and certain central banks' monetary policy communication were cited as the reasons for the depreciation of the US dollar (UUP), which could add to inflationary pressures.
Article continues below advertisement
Acceptance of the December rate hike
The staff review indicated that market participants were prepared for the December rate hike and their expectations are aligned for a gradual removal of monetary policy accommodation. The report indicated that the probability of a March rate hike increased to 85% and the Federal Funds rate for 2018 and 2019 have moved higher, as implied by the overnight index swap rates.
Financing conditions for US businesses and households remained accommodative and continued to support economic growth. Credit conditions for the commercial real estate and commercial mortgage-backed securities (MBB) were reported to be accommodative, while mortgage rates have increased in line with long-term (TLT) Treasury securities. Rising rates have an impact on the real estate (XHB) sector but interest rate levels are below historical averages.
Vulnerabilities of the US financial system
The US FOMC staff review included a report on the vulnerabilities of the US financial system, which were moderate. The report said that the broad-based increase in risk appetite among investors is leading to elevated asset valuation pressures. This increased risk appetite was put to the test in the recent market correction, but investors seem to be getting back into an optimistic mode, as indicated by the strong rebound in US Indexes. In the next part of this series, we'll look at the FOMC members' inflation outlook for the US economy.