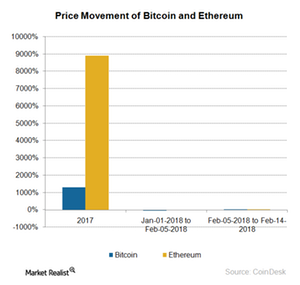 How the Cryptocurrency Boom Impacted NVIDIA's 2017 GPU Revenues
By Puja Tayal

Feb. 19 2018, Updated 9:03 a.m. ET
Cryptocurrency boom
So far in this series, we've been talking about the cryptocurrency boom and how it has impacted NVIDIA's (NVDA) and Advanced Micro Devices' (AMD) GPU (graphics processing units) sales. Below, we'll dive deeper and discuss what this cryptocurrency boom is—and if it's here to stay.
The recent cryptocurrency boom started in 2017 when bitcoin and ethereum prices rose 1,300% and 8,900%, respectively. This growth came in two phases—one in June 2017 and the other in December 2017. This saw crypto miners purchase the entire inventory of NVIDIA's and AMD's GPUs in calendar 2Q and 4Q17.
Article continues below advertisement
What do GPUs have to do with cryptocurrency? Crypto miners need to solve complex mathematical problems to earn cryptocurrency. The solving of the equation requires strong computing power, which is offered by accelerators. GPU, especially AMD's GPUs, is the most preferred accelerator of crypto miners. The increasing prices of cryptocurrency got more people interested in mining. Miners started renting planes to ship GPUs, and this created a GPU supply shortage.
This situation was aggravated as AMD's Vega GPU faced manufacturing issues, and miners turned primarily to NVIDIA's GPUs.
NVIDIA's GPU revenue
Earlier in 2017, NVIDIA didn't acknowledge that cryptocurrency cards contributed significantly to its revenue. However, market signals showed otherwise. NVIDIA gained too much attention from the market, and then miners not only purchased crypto-specific GPUs but also purchased gaming GPUs. As NVIDIA cannot track the exact reason behind consumers' GPU purchase, the sales to crypto miners were hidden inside its gaming revenues.
However, at the end of 2017, NVIDIA acknowledged that crypto miners contributed materially to its GPU revenue in fiscal 4Q18. It also acknowledged that miners purchased both crypto cards and gaming cards.
Article continues below advertisement
During its fiscal 4Q18 earnings call, NVIDIA chief financial officer Colette Kress didn't quantify the cryptocurrency contribution. However, RBC Capital Markets analyst Mitch Steves estimated that cryptocurrency contributed $180 million to NVIDIA's fiscal 4Q18 revenue, while BMO Capital Markets analyst Ambrish Srivastava estimated the contribution to be over $230 million.
Can the crypto trend continue in fiscal 2019?
Colette Kress expects the demand from crypto miners to remain stable through fiscal 1Q19. However, the recent stock market carnage saw cryptocurrency prices fall between January 1, 2018 and February 5, 2018. Bitcoin prices fell 50%, and ethereum prices fell 11%. This raised concerns among analysts that the crypto boom is nearing its end.
But prices revived, and bitcoin and ethereum prices rose 34% and 26%, respectively, between February 5 and February 14, indicating that the crypto boom is still alive.
Next, we'll discuss how this prolonged crypto boom would harm NVIDIA in the long term.