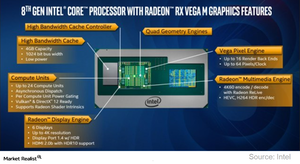 How Intel Plans to Compete with Advanced Micro Devices' Ryzen APU
By Puja Tayal

Mar. 2 2018, Updated 7:31 a.m. ET
Advantages of AMD's Ryzen APU over Intel's Core CPU
Advanced Micro Devices' (AMD) Ryzen desktop APU (application processing unit) offers better cost-efficiency and gaming performance than Intel's comparatively priced Intel's CPU (central processing unit). Moreover, AMD's APU consumes less power (65 watts) than the combination of Intel's CPU and Nvidia's (NVDA) GPU (graphics processing unit) (95 watts).
Another advantage of AMD's Ryzen APU is that it works on AM4 motherboards. Intel's Coffee Lake CPU requires users to upgrade their motherboard, which is a heavy load on consumers' pockets.
Article continues below advertisement
The Ryzen APU may not generate much profit for AMD but would bring in market share in the low-end processor space since it is a good market in which to change the mindsets of consumers who are loyal to Intel. With its APUs, AMD is targeting entry-level gamers who might later upgrade to higher-margin AMD products.
Rivals realize AMD's intentions and are therefore responding quickly to the new Ryzen APU.
Intel and Nvidia respond to AMD's Ryzen APU 
Intel must know that its integrated GPUs are no match for AMD's and Nvidia's discrete GPUs. Despite many attempts, Intel could not develop a comparable GPU. As the saying goes, "If you can't beat 'em, join 'em."
So Intel partnered with AMD to integrate the latter's Vega M GPUs inside its laptop processors. The chipset is called Kaby Lake-G and combines Intel's H-series eighth-generation Core i5 and i7 Kaby Lake CPU Intel processor with AMD's semi-custom Radeon RX Vega M GPU graphics chip and features HBM 2 (high-bandwidth memory).
Article continues below advertisement
This partnership would benefit Intel since it would get a ready-made GPU without having to license the IP (intellectual property) or put its own engineering efforts into the GPU. The partnership would also help Intel expand its gaming notebook segment, which is currently a small portion of its PC (personal computer) revenue.
The partnership would also benefit AMD since it would get a large customer that could help it penetrate the integrated GPU market, significantly boosting its overall GPU market share. The partnership would also benefit PC OEMs (original equipment manufacturers) such as HP (HPQ) and Lenovo since they wouldn't have to buy AMD's GPUs separately to build laptops.
What's in it for Apple?
Among PC OEMs, Apple (AAPL) would probably benefit the most from an Intel-AMD partnership. Apple is the biggest buyer of AMD's GPUs since it uses them in almost all its MacBooks and iMacs. Apple's latest 2017 iMac Pro features an 8-core Intel Xeon processor, Radeon Pro Vega 56 GPU, and HBM2 video memory.
Apple currently combines Intel's CPU and AMD's CPU separately. When Intel's Kaby Lake-G arrives, it could directly use that to make thinner and more power-efficient MacBooks or iMacs.
The only company at a disadvantage is Nvidia since the partnership would loosen its hold on the integrated GPU market. Rumors are that Nvidia will launch a Max-Q variant of its older GTX 1050 and 1050 Ti GPUs to bring desktop-like gaming performance to a laptop.