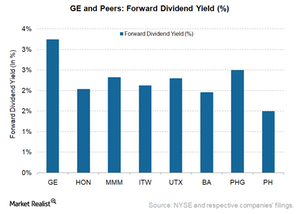 How General Electric's Dividend Yield Compares to Peers
By Samuel Prince

Feb. 13 2018, Updated 11:05 a.m. ET
GE's forward dividend yield
The forward dividend yield is calculated by dividing a year's worth of expected future dividend payments by the present stock price. Once upon a time, General Electric (GE) was a dividend aristocrat. Investors seeking regular income used to look to the company for its excellent dividend track record. GE had a history of steady growth in quarterly cash dividends.
In the last few months, General Electric's forward dividend yield has fallen. In September 2017, its yield was around 4%. However, the yield is now at 3.2%. As the above chart shows, GE still leads the peer group in terms of forward dividend yield. The company's dividend yield was 45% higher than the other big industrial peer average of 2.2%.
Article continues below advertisement
Peer group's forward dividend yield
General Electric is followed by Koninklijke Philips (PHG) with a forward dividend yield of 2.5%. PHG is a Netherlands-headquartered company offering technology solutions to the healthcare industry. Industrial technology solutions provider 3M Company (MMM) ranks next to PHG with a forward dividend yield of 2.3%.
United Technologies (UTX) comes after 3M Company with a yield of 2.3%. The company provides high-end industrial technology solutions in the US. Illinois Tool Works (ITW) is an industrial product and equipment manufacturer, and its dividend yield is 2.1%. Honeywell International (HON) has a forward dividend yield of 2.0%. Boeing (BA), which replaced General Electric as the largest manufacturer in the US by market capitalization, has a yield of 2.0%. Parker-Hannifin (PH), a manufacturer of motion and control technologies and systems for the industrial sector, has a yield of 1.5%.
General Electric makes up 3.9% of the iShares US Industrials ETF (IYJ). Other major industrial companies in IYJ include Boeing with a 5.7% weight, 3M Company with a 4.1% weight, and Honeywell International with a 3.4% weight.
In the last article of this series, we'll compare GE's returns with those of its peers.