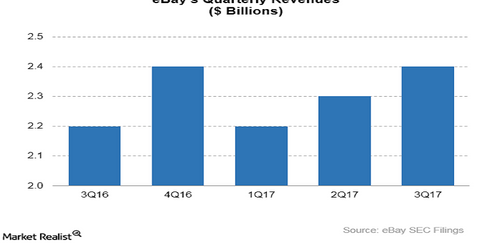 How eBay Is Partnering with Mashable
By Ruchi Gupta

Updated
Shoppable images
eBay (EBAY) has teamed up with digital news publisher Mashable to simplify its online shopping experience—a move that seems to fit with eBay's strategy to drive sales on its online marketplace.
With this partnership, Mashable readers are able to shop on eBay directly from the publisher's website. Using the shoppable image feature, Mashable content would be embedded within the eBay widget.
When a reader hovers over an image in a Mashable article, a shopping tag is activated. The reader can click on the shopping tag to find matching items or cheaper alternatives on eBay. 
For example, a reader who sees a shirt in an image published by Mashable can use this tag to see the shirt's price, color selection, and other features. The reader could purchase the shirt immediately without navigating to eBay.
Article continues below advertisement
Understanding how people shop off eBay
eBay and Mashable rolled out the pilot of the shoppable image in the UK (EWU). This feature is expected to be available to Mashable readers in the UK and the US (SPY).
Dan Burdett, the head of eBay's EMEA Marketing Lab, noted, "We know a lot about how people shop on our site, but less about how they shop off it, so we wanted to bring a simplified shopping experience that brings products to Mashable's passionate audience rather than expect them to come to us."
Staying ahead of the competition
Traditional retailers such as Walmart (WMT), Target (TGT), and Best Buy (BBY) are working aggressively to expand their online reach. eBay seems to be betting on technological innovations that simplify online shopping to help it stand out. eBay's revenues grew 9.0% year-over-year to $2.4 billion in 3Q17.