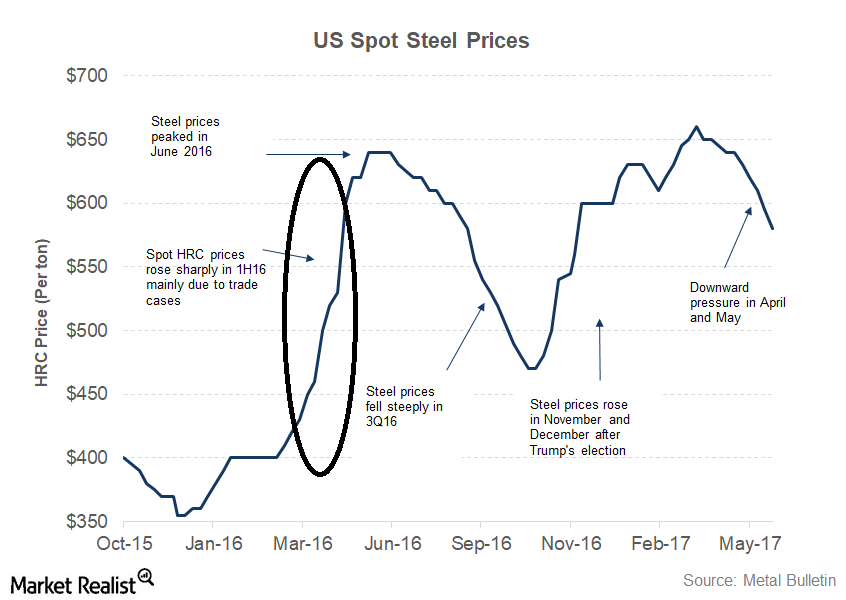 How Duties Could Impact US Steel Buyers
By Mohit Oberoi, CFA

Feb. 28 2018, Updated 10:31 a.m. ET
Section 232
The Section 232 investigation findings, if implemented, could have an inflationary impact on US steel prices (X) (AKS). In the past, we've seen US steel prices inch up after trade action, and if we look at the most recent case in 2016, we have to note the sharp increase in flat rolled prices after duties were imposed on imports from several countries, including China.
Spot HRC (hot-rolled coil) prices rose from $380 per ton to $640 per ton between January 2016 and June 2016—a phenomenal rise of almost 70%. While several other factors contributed to the spike, trade action was the key driver.
Article continues below advertisement
Conflicting interest
Now, as in other industries, steel buyer and seller groups have conflicting interests. While steel buyers benefit from cheaper steel imports, US steel mills' profitability is negatively impacted. According to the Scrap Register, AIIS (American Institute for International Steel) President Richard Chriss stated that "free trade in steel means that Americans pay global market prices."
Criss added the following: "While this competition may indeed reduce the profits of domestic manufacturers, other steel-related businesses and consumers benefit from not having to pay the artificially high prices that would result from measures that restrict trade."
Steel producers' views
However, US steel mills have a different view of steel importers. Mark D. Millett, Steel Dynamics' (STLD) CEO (chief executive officer), has previously called on service centers to be a "little more patriotic than they are."
In other words, Millett is calling on service centers to order steel from domestic producers instead of buying it from overseas steel producers. Going a step further, Cleveland-Cliffs (CLF) CEO Lourenco Goncalves called for steel importers to be jailed.
While labeling steel importers as "unpatriotic" and calling them to be "jailed" could be rhetoric, the US steel industry (NUE) still needs some sort of reprieve—which we'll discuss in the next part of this series.