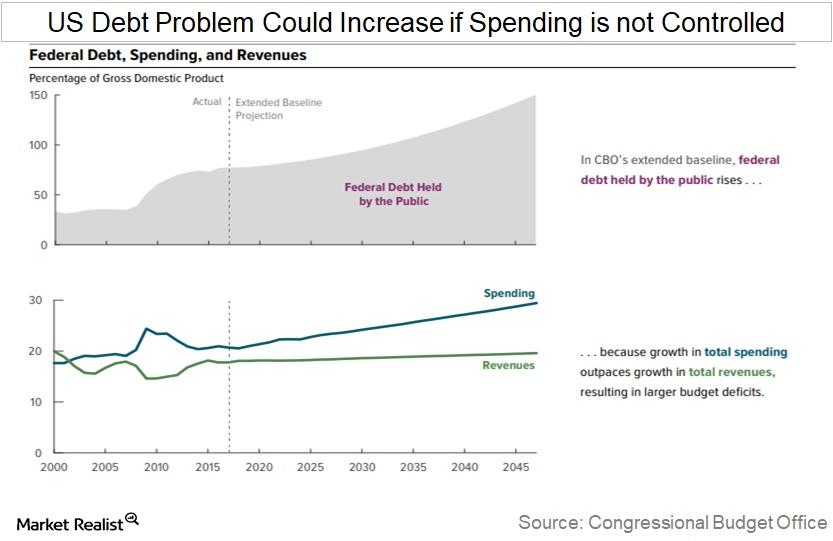 How Big a Problem Could US Debt Become?
By Ricky Cove

Mar. 1 2018, Updated 9:02 a.m. ET
Debt could become a problem
If we turn back the clock to before the recession, we find that US debt levels weren't this high, and unconventional programs like quantitative easing helped the economy recover from the Great Recession. Budget deficits have been increasing, and they're expected to rise dramatically over the next few years, thanks to increased fiscal spending and tax cuts. They're likely to increase the burden on the US economy. The US Treasury must deal with higher interest rates and borrow more to keep the economy running, and this cycle could turn into a downward spiral unless revenues increase.
Article continues below advertisement
Debt servicing could become expensive
The US Treasury is the king of the credit markets, and it's followed by investment-grade (LQD)(VCSH) bonds and junk (JNK) bonds. These issuers have enjoyed ultra-low interest rates over the last decade, and they're now facing the prospect of higher rates. This kind of scenario could become painful for the entire bond (BND) market. When debt issuers have to roll over their debt, they could be faced with higher rates and interest costs, which could make their business profits shrink, leading to job losses, wage cuts, and even another recession.
Conclusion
The chances of a recession are slim for this year, and for 2019 they remain slim, but the debt trap could eventually catch up with us. Increased spending should be controlled, or else we could be in trouble. In an economic environment where interest rates and inflation (TIP) are increasing in tandem, debt servicing becomes a herculean task. Market reactions could be abrupt, and investors could be caught off guard—just like the recent correction. All we can do is watch for any alarm bells, and they're not ringing right now.