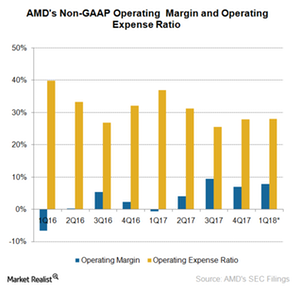 How AMD Turned Its Operating Losses to Operating Profits
By Puja Tayal

Mar. 2 2018, Updated 9:00 a.m. ET
Operating efficiency
Advanced Micro Devices (AMD) is improving its gross margin by shifting to a richer product mix and reducing production costs. It's the only company that offers products that are competitive with both Intel (INTC) and NVIDIA (NVDA).
What's interesting is that AMD spends far less than Intel and NVIDIA in terms of R&D (research and development), but it still manages to develop competitive products.
Article continues below advertisement
Operating expenses 
In 4Q17, AMD's non-GAAP (generally accepted accounting principles) operating expenses fell 1.7% sequentially but rose 15.4% YoY (year-over-year) to $412 million, equating to 27.8% of its revenue. In the last 12 months, its operating expenses have risen $55 million as it has invested in R&D and the marketing of new products.
AMD's operating expenses are below NVIDIA's $607 million and Intel's $5.1 billion. However, comparing expenses in dollar terms isn't optimal given the different sizes of the three companies. Hence, the operating expense ratio (operating expenses as a percentage of revenue) is used because it shows the efficiencies of the different companies irrespective of size.
The operating expense ratio shows that NVIDIA is the most efficient at a 21% ratio, followed by AMD at 27.8% and Intel at 29.8%.
Operating expense guidance
AMD expects its operating expenses to increase 5.6% sequentially to $435 million, or 28% of its revenue, as it rolls out its new Ryzen APUs (application processing unit) and invests in GPU software for machine learning. NVIDIA and Intel also expect their operating expenses to rise a respective 6% and 11.8% sequentially in 1Q18.
Intel's operating expenses include the costs associated with addressing the design flaws Meltdown and Spectre, while AMD has stated that it incurred no additional costs in addressing the chip design flaws.
Article continues below advertisement
In 2018, AMD expects to reduce its operating expense ratio to 28% from 29.6% in 2017. This margin is in line with its target operating expense ratio of 26%–30%. If the company continues to improve its earnings and profits, it could reduce its operating expense ratio to 26% or below in the long term.
Operating profits
AMD's non-GAAP operating profit rose 296% YoY to $103 million in 4Q18 driven by an $85 million profit from its CG (Computing and Graphics) segment. This improved AMD's operating margin from 2.3% in 4Q16 to 7% in 4Q17. While a 7% margin is a big improvement from its past performance, it's still far below NVIDIA' and Intel's margins of 41.3% and 34.5%, respectively.
In 2017, AMD's operating income rose 584% YoY to $301 million as CG became profitable for the first time in six years. Its 2017 operating margin stood at 5.6%. The company is looking to improve its profits in 2018 by targeting high-margin products. AMD has a long way to go to compete with its rivals in terms of profitability.
Next, we'll have a look at AMD's earnings per share.