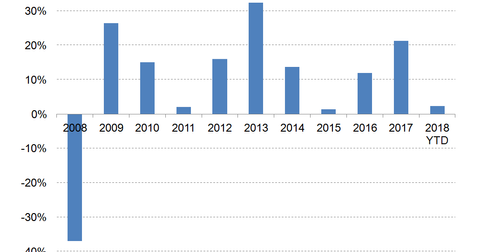 How Amazon and Microsoft Have Fared in the Last Decade
By Anne Shields

Updated
Tech sector contributed most to S&P 500 index's rally in 2017
Earlier in the series, we discussed the surge in Amazon's (AMZN) market cap, which marked the first time that the company surpassed Microsoft (MSFT) in market cap. The IT sector constitutes more than a quarter of the S&P 500 (VOO) Index and makes up the top ten holdings of the index.
The below chart shows S&P 500 returns in the last decade. Except for 2008, the index's returns have been positive every year, averaging double-digit annual returns over the period. The technology sector, which grew 34% in 2017, contributed the most to the S&P 500, which grew 21.3% in 2017. According to Bloomberg, Facebook (FB), Apple, Amazon, Microsoft, and Alphabet/Google (GOOG) accounted for one-fourth of the S&P 500's rally last year. When it comes to market cap, these five tech stocks contributed approximately 12% towards the index.
Article continues below advertisement
Tech sector leads the sectors that are in the green this year
It's very likely that the technology sector will continue its strong trend in 2017 in 2018 as well. Year-to-date, it has risen 5.1% as of February 16, 2018, while the S&P 500 has advanced 2.2%. Thus, the technology sector has outperformed the S&P 500 in 2018 to date. Apart from technology, the consumer discretionary, financial, and healthcare sectors are the other sectors that are in green territory. The S&P 500 consists of 11 sectors.
Investors interested in gaining exposure to the technology sector in general and Microsoft in specific can consider investing in the PowerShares QQQ Trust Series 1 ETF (QQQ). MSFT accounts for 8.4% of QQQ. Application software accounts for ~28.4% of QQQ's holdings.