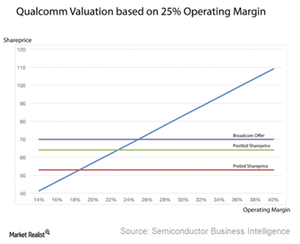 Here Are Qualcomm's Arguments against a Broadcom Takeover
By Puja Tayal

Updated
Why is Qualcomm against a Broadcom takeover?
Qualcomm (QCOM) is trying to prevent itself from missing out on 5G and other long-term growth opportunities due to short-term headwinds, and so it has rejected Broadcom's (AVGO) $103-billion hostile takeover bid and is encouraging its shareholders to do the same.
Article continues below advertisement
Broadcom undervalues Qualcomm
Qualcomm stated that it rejected Broadcom's offer as it significantly undervalues the company. Qualcomm estimates that it will achieve $7.5 in EPS (earnings per share) by fiscal 2019. If we look at this estimate, Broadcom's previous offer of $70 per share valued Qualcomm at 10x its projected earnings, whereas recent mergers in the industry valued companies at 22x earnings.
The semiconductor industry (SMH) is currently trading at 19x projected earnings, indicating that Qualcomm would have also been trading at this rate in the absence of legal headwinds.
Broadcom addressed this concern and raised the offer to $82 per share, valuing Qualcomm at 11x of its 2019 projected earnings. It's important to note that analysts find Qualcomm's $7.5 EPS estimate highly uncertain.
Semiconductor Business Intelligence stated Qualcomm would be worth $70 if its operating margin falls to 25%. However, the company's fiscal 2017 non-GAAP (generally accepted accounting principles) operating margin stood at 30%.
Regulatory uncertainty
Qualcomm general counsel Donald Rosenberg stated that the Broadcom deal is "quite destructive" from a regulatory perspective. The deal would require clearance from national security agencies and regulators across the globe, including the United States, Europe, China, Korea, and Japan. This could take over 18 months and may require complex divestitures or operating restrictions.
Broadcom believes, however, that Qualcomm's claims are unfounded, citing its own years of experience in M&As (mergers and acquisitions), Broadcom stated that all antitrust issues concerning the deal can be resolved and the deal can be completed within 12 months. It has already resolved the issue of extra scrutiny from the US national security by shifting its domicile from Singapore to the US.
Broadcom has also offered a payout to Qualcomm if the deal fails to get regulatory clearance—and to pay extra if the deal takes more than 12 months to complete. This payout clause weakens Qualcomm's claims and showcases Broadcom's determination to close the deal.
5G opportunity 
Qualcomm stated that Broadcom's leaders don't value the company's ability to tap the 5G opportunity and deliver significant value to stockholders. To be sure, 5G is a transformative opportunity, though it's currently in its early stages.
Qualcomm President Cristiano Amon highlighted that the company's transition from 3G to 4G more than doubled its revenues, from $11 billion in fiscal 2010 to $25 billion in fiscal 2013. The 5G opportunity is substantially larger than 4G because it expands to automotive and IoT (internet of things). Notably, 5G has a total addressable market of $150 billion in 2020—a six-fold increase from its 2017 revenues of $23 billion.
But it's not just Qualcomm that's against the takeover. Its customers appear to be against the Broadcom acquisition as well. We'll discuss this in the next part.