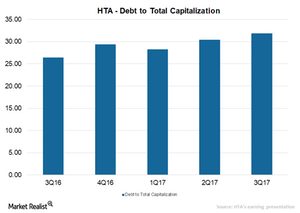 Healthcare Trust of America's Balance Sheet
By Raina Brown

Nov. 20 2020, Updated 4:33 p.m. ET
Balance sheet overview
In 2017, Healthcare Trust of America (HTA) had total leverage of 29.9%. The company has been consistently maintaining the ratio in this range. Its net-debt-to-adjusted-EBITDA[1. earnings before interest, taxes, depreciation, and amortization] multiple for real estate is 5.9x.
Total liquidity at the end of 4Q17 at $1.2 billion, which includes $991.2 million of unsecured revolving credit facility, $100.4 million of cash and cash equivalents, and $75.0 million of forward equity agreement.
Article continues below advertisement
Equity financing
HTA issued and sold ~$1.8 billion of equity at an average price of $28.76 per share with anticipated proceeds of $75.0 million to be settled in April 2018.
HTA has maintained a low leverage profile despite significant investments and has locked in its long-term cost of capital.
Debt financing
HTA has raised ~$1.2 billion in debt, which consisted of $900.0 million in public unsecured bonds at a 3.4% average interest rate and 7.7 years of average duration. HTA also had $286.0 million in seller financing at 4.0%, which matures in three equal installments. The majority of its debt matures after 2022.