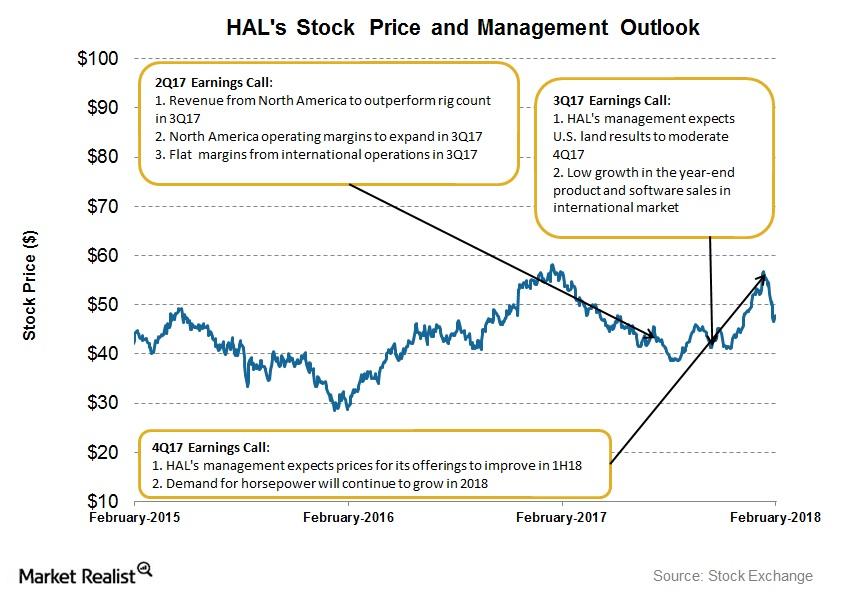 Halliburton Management's Views on 2018
By Alex Chamberlin

Feb. 15 2018, Published 12:26 p.m. ET
Halliburton's geographic diversity
Halliburton (HAL) CEO Jeff Miller cited the company's geographic diversity as part of its key strategy to garner solid growth in 4Q17. In the company's 4Q17 earnings conference call, he stated that "geographic diversity is also a key component of our strategy and our international business proved resilient. Middle East activity was consistent throughout 2017 in areas like the North Sea and Brazil that come on strong in the second half of the year. Our geographic diversity provided stability through the cycle and rounded out this quarter's excellent results."
Halliburton makes up 11.5% of the iShares US Oil Equipment & Services ETF (IEZ). IEZ has fallen 27% in the past year, whereas HAL has fallen 14%. The energy sector makes up 6.0% of the S&P 500 (SPX-INDEX). The SPX-INDEX has risen 15% in the past year.
Article continues below advertisement
How will Halliburton's US business perform?
Halliburton management expects higher US onshore activity to result in strong growth in hydraulic fracturing and horizontal drilling in 2018. Miller stated that "I believe that the U.S. land market will be very busy in 2018 and that demand for horsepower will continue to grow. Rigs continue to get more efficient, but more importantly, completions intensity continues to grow with longer laterals and tighter spacing."
Factors driving Halliburton in 2018
Halliburton's prices for its offerings may rise in 2018 due to improving oil prices and the resulting demand for equipment from upstream producers.
Equipment utilization may improve for upstream producers as upstream activity increases, which is positive for oilfield equipment and service providers.
Technology will likely help reduce costs and increase efficiency and production. For example, the application of big data or analytics optimizes operations to reduce downtime, minimize maintenance, and compare the efficiency of completion designs.
Next, we'll discuss Halliburton's revenue and earnings.