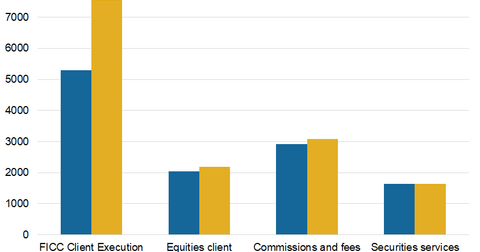 Goldman Sachs's Trading Revenues Continue to Disappoint
By Raina Brown

Updated
Institutional Client Services
Goldman Sachs's (GS) net revenues in its ICS (Institutional Client Services) segment fell 24% to $2.4 billion compared to 3Q17. The fall was due to lower volumes in the markets and low volatility. It was also due to the challenging commodities franchise. In 2017, ICS generated revenues of $11.9 billion, an 18% fall compared to 2016.
Article continues below advertisement
Fixed Income, Currency, and Commodities
Net revenues for the FICC (Fixed Income, Currency, and Commodities) segment were $5.3 billion, a 30% decline year-over-year. GS saw a lower sequential performance in four of the five fixed-income businesses, mainly due to the challenging operating environment.
Volatility in US and European interest rates and volatility in G10 (Group of Ten) currencies also fell to nearly post-crisis lows. Low volatility also moved active investors to passive, thus reducing revenues. Tighter bid-ask spreads across various products further added to the fall. There were low levels of derivative activities and fewer large transactions.
Commodities were the largest driver amid muted client activity, while currency and rates both declined amid low volatility and weaker emerging market performances. Credit also decreased due to low client activity in US high-yield businesses.
Mortgages, a small portion of Goldman Sachs's business, improved due to performances in commercial and residential mortgages.
The outlook for trading in 2018 has improved in the current market due to the rally in oil prices and the breakout in ten-year bonds.
The trading segments of all major banks (IYF), including JPMorgan Chase (JPM), Morgan Stanley (MS), and Bank of America (BAC), have been affected by low market volatility and an unfavorable economy. Goldman Sachs has been hit the hardest.