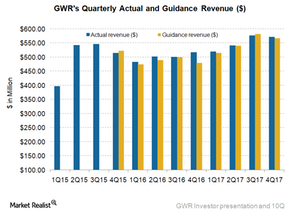 Genesee & Wyoming and Analysts' Revenue Estimate for 4Q17
By Samuel Prince

Updated
Genesee & Wyoming's 4Q17 revenue
Genesee & Wyoming (GWR) operates in three territories: North America, the United Kingdom and Europe, and Australia. In the fourth quarter of 2017, its revenue was $571.6 million compared to $516.5 million in the corresponding quarter of 2016. That represents a year-over-year rise of 10.7%. It beat analysts' revenue estimate by a marginal 0.8%.
Genesee & Wyoming also performs a variety of freight-related operations apart from freight services. Based on these revenue sources, freight revenues were 68.6% of its total operating revenues. Freight-related revenues and other revenues were 25.5% and 5.9%, respectively, in 4Q17. By segment, GWR's North America operation contributed 56% to total revenues. Its Australian operations accounted for 13%, while the UK-Europe operations were 31% of revenues.
Article continues below advertisement
GWR's carloads in 4Q17
In the fourth quarter 2017, Genesee & Wyoming reported 802,500 carloads, a rise of 4.7% from 766,500 units in 4Q16. These carloads represent physical railcars and the estimated railcar equivalents of commodities transported by the metric ton or other measure and intermodal units. Average revenue per carload was $489 in 4Q17, a 5.6% rise from $463 in the fourth quarter of 2016. These figures are on a reported basis, which includes carloads from newly acquired businesses. The company hasn't divulged details of its same railroad carloads on a consolidated basis for 4Q17.
Peers' 4Q17 revenues
In the fourth quarter 2017, major railroads in the United States reported higher revenues on a year-over-year basis. With an upsurge in coal and intermodal revenues, these railroads were able to post revenue growth in 4Q17. Let's compare GWR's peer group's revenue changes in 4Q17:
CSX's (CSX) revenues declined 6% due to an 8% decline in carloads.
Canadian Pacific Railway's (CP) revenues rose 4% to $1.7 billion, driven by a 5% rise in volumes.
Kansas City Southern (KSU) reported a 10% rise in revenues to $660.4 million, driven by a 5% rise in carloads.
If you want exposure to transportation stocks, you could consider the SPDR S&P Transportation ETF (XTN). It holds 12.1% of GWR's peer group, including Genesee & Wyoming.
Management insights for 2018
For 2018, Genesee & Wyoming has guided for operating revenues of $2.36 billion–$2.42 billion. The company has a favorable outlook for freight shipments in its North America operation, which is its largest segment by revenue.
Next, we'll review GWR's 4Q17 segment performance for its North America operation.