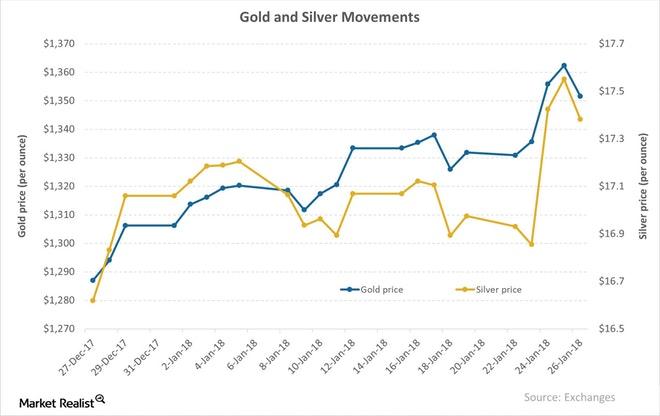 These Factors Will Shape Gold's Outlook in 2018
By Anuradha Garg

Sep. 29 2019, Updated 8:26 a.m. ET
Assessing gold's outlook
Earlier in this series, we looked at various factors that could impact gold's outlook in 2018. In Could Gold Be Set for a Big Move in 2018? we discussed these factors in detail.
While a weaker US dollar supported gold prices in January 2018, the picture could change going forward, as the dollar has started strengthening on a brighter inflation outlook and a more hawkish Fed stance. In this article, we'll look at what could lead to upsides and downsides for gold from here.
Article continues below advertisement
Factors pointing to a downside
As the US payrolls data suggest, the inflation outlook has started firming up in the US economy. The Federal Reserve now expects inflation to meet its 2.0% target in 2018. The Fed has long been waiting for inflation to improve to set off on a monetary tightening path.
Some market participants are now anticipating as many as four rate hikes this year. Rate hikes would be detrimental to gold's investment appeal, as gold doesn't yield anything, and higher rates increase the opportunity costs for holding gold.
As the US market's interest rate rises relative to the rest of the world, fund flows to US assets should increase. This movement should strengthen the dollar further, which will likely be even more negative for gold prices.
Factors pointing to an upside
There are also many factors that could lead to a further upside in gold prices. As discussed, the inflation outlook for the US economy is firming up, which could lead investors to gold—which usually works as a good inflation hedge.
The European Union's (or EU) economy has been doing better than that of the United States. Moreover, there are hints of quantitative easing winding down in the EU and Japan. Further strengthening of the euro and the Japanese yen against the US dollar could put pressure on the dollar, leading to firmer gold prices.
While US stock markets have been stabilizing since the recent sell-off, the upside seems to be limited. As stocks rally further, risks will increase if prices aren't supported by earnings growth. Some money could flow to gold due to its diversification benefits and safe-haven appeal.
A potential upside or downside to gold prices will depend on which factor exerts more influence. The short-term outlook, however, remains bright, with seasonal factors supporting demand.
In this scenario, gold (GLD) and gold stocks (GDX) (NUGT) such as Barrick Gold (ABX), IAMGOLD (IAG), Kinross Gold (KGC), and Newmont Mining (NEM) could rise further. ABX, IAG, KGC, and NEM have returned -5.8%, -4.5%, -5.3%, and 0.7%, respectively, year-to-date.