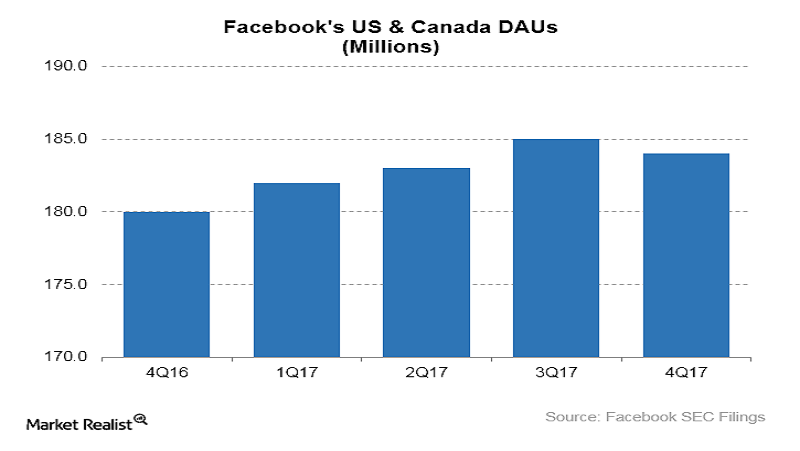 Why Did Facebook Lose US Users?
By Neha Gupta

Feb. 9 2018, Updated 10:31 a.m. ET
About 1.0 million DAUs lost in the United States and Canada
Although Facebook (FB) grew its audience overall in 4Q17, it suffered a big blow in its most lucrative market: North America.
In 4Q17, the United States and Canada produced $6.4 billion in revenue for Facebook, representing 49.2% of its total revenue for the quarter. Facebook lost DAUs (daily active users) in the United States and Canada in 4Q17, and its MAUs (monthly active users) in these two countries didn't increase.
Facebook entered 4Q17 with 185 million DAUs in the United States and Canada and exited the quarter with 184 million DAUs, a loss of 1.0 million daily users. Its monthly user base in the United States and Canada stayed flat at 239 million in and out of 4Q17.
Article continues below advertisement
Peak penetration blamed for user decline
What happened? According to Facebook, it has reached a high penetration level in the United States and Canada, so it's only natural that some amount of fluctuation may occur. According to data from the World Bank and the United States Census Bureau, the US population was 323.1 million in 2016, while Canada's population was 36.3 million.
But we should also consider that competitive pressure and negative pressure may also have contributed to Facebook's weak North American audience metrics.
Competition and negative press
Competitors Twitter (TWTR) and Snap (SNAP) have stepped up their campaigns for digital advertising dollars. They've also been inking video deals here and there to bolster the competition. Snap, for example, has entered into a deal with Comcast's (CMCSA) NBCUniversal for some exclusive 2018 Winter Olympics content.
Last year, Facebook, Twitter, and Google (GOOGL) executives were called to appear before lawmakers in the United States and the United Kingdom (EWU) to answer questions about hate speech and propaganda content spreading on their platforms. The negative press is never beneficial for these companies.