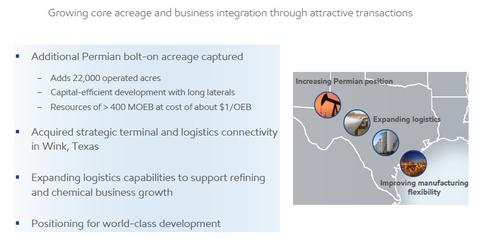 ExxonMobil's Permian Basin: Plans to Triple Production
By Maitali Ramkumar

Feb. 1 2018, Published 6:50 p.m. ET
ExxonMobil's Permian Basin
ExxonMobil (XOM) now plans to increase its production in the Permian Basin threefold. This announcement comes right after the recent tax reform legislation in the US, which gave a boost to XOM's Permian plans.
XOM plans to increase its Permian Basin production to 600,000 barrels of oil equivalent by 2025. The company also plans to increase its production from the Delaware and Midland regions by five times during the same period. For this, the company plans to create transportation infrastructure by investing around $2 billion in the region.
Article continues below advertisement
XOM added around 3.4 billion barrels of oil equivalent of estimated resources in the Permian Basin in 2017, with the acquisition of companies from the Bass family for a consideration of around $6 billion. (For more on this, you can refer to Market Realist's "What Does ExxonMobil's Permian Basin Deal Mean?")
The acquired assets show promising hydrocarbon traces feasible for development in the current oil price environment.
The impact of higher production from the Permian
The development of the Permian will likely facilitate the supply of economical feedstock to ExxonMobil's downstream facilities in Texas and Louisiana. ExxonMobil is in the process of expanding and modernizing its facilities in these areas. The availability of low-cost feedstock should, moreover, integrate ExxonMobil's fully integrated model, which could further optimize XOM's entire value chain.
As far as the integration benefits that could be derived due to increased Permian basin production, Sara Ortwein, president of ExxonMobil's XTO Energy subsidiary, stated: "With this production growth, we are well positioned to maximize value as increased supply moves from the Permian to our Gulf Coast refineries and chemical facilities where higher-demand, higher-value products will be manufactured."
ExxonMobil's Permian Basin production should also add to the company's robust upstream portfolio, whereby the company is expecting a series of projects to start up. The company expects five major projects to begin in 2017 and 2018. These projects are expected to add working interest production of 340,000 boepd (barrels of oil equivalent per day).