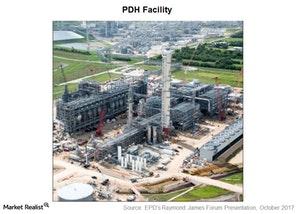 Enterprise Products Partners to Spend $3 Billion on Growth
By Rekha Khandelwal, CFA

Nov. 20 2020, Updated 3:22 p.m. ET
Capital expenditures
Enterprise Products Partners (EPD) spent $3.4 billion on capital projects in 2017. For 2018, it expects to invest nearly $3 billion for growth capital projects. These projects should contribute to EPD's future earnings. The company aims to self-fund the equity portion of its growth capital expenditure over time. It lowered its distribution growth rate recently toward this objective. Let's take a look now at some of its key growth projects.
Article continues below advertisement
ATEX ethane pipeline
Enterprise Products Partners' ATEX (Appalachia-to-Texas Express) ethane pipeline expansion was completed in 2017. Rising demand from the petrochemicals industry and export demand are driving demand for ethane. That contributed to the surge in volumes on EPD's ATEX ethane pipeline in 2017. The trend is expected to continue.
PDH plant
Enterprise Products Partners' PDH (propane dehydrogenation) plant is currently in a commissioning stage, with 100% of the plant's capacity contracted. According to EPD, the decreased byproduct olefin production (such as propylene and butylene) out of steam crackers—which have a high ethylene yield—has caused higher prices for olefins.
Dehydrogenation units can make those olefins fill the demand. Product upgrades, for which demand grows with growth in the economy, could be a key growth avenue for Enterprise Products Partners. That's important since shrinking differentials of various grades of crude oil to WTI (West Texas Intermediate) have made harnessing location differentials unattractive compared to what they were earlier.
Midland-to-Sealy pipeline
Enterprise Products Partners' Midland-to-Sealy pipeline is expected to ramp up to 450 Mbpd (thousand barrels per day) in 2Q18. The pipeline started limited service in 4Q17. EPD's Rancho II pipeline connects the Sealy storage with the ECHO terminal, which supplies oil to the Houston refining and export market. The company benefited from growth in crude oil export volumes in 4Q17. With booming onshore production finding an outlet in rising exports, this new capacity could contribute significantly to EPD's earnings.
Plains All American Pipeline (PAA) expects to spend $700 million on capital projects in 2018. For more on PAA, read Plains All American Pipelines' Key Upcoming Capital Projects. In comparison, Kinder Morgan (KMI) expects to spend $2.2 billion on growth projects in 2018.