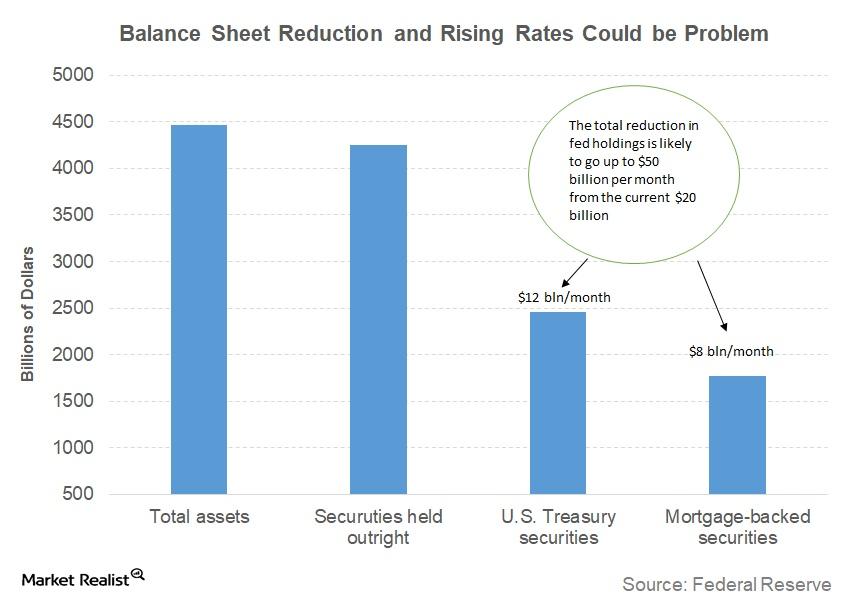 Double Whammy: Rate Hikes and Balance Sheet Trimming
By Ricky Cove

Mar. 1 2018, Updated 7:32 a.m. ET
Balance sheet unwinding
The US Federal Reserve has accumulated huge quantities of fixed-income (BND) securities as part of its three quantitative easing programs, QEs 1, 2, and 3. These QE programs were intended to help the US economy recover from the Great Recession of 2007–2008. The Fed's balance sheet increased from $147 billion in 2008 to its current $4.4 trillion as part of these exercises. The US Fed announced the trimming of these excess reserves by allowing $10 billion worth of securities to expire every month, starting in October 2017. This limit increased to $20 billion in January and is slated to increase by $10 billion every quarter. The balance sheet cuts should remain the same at 60% for Treasury securities (TLT) and 40% of mortgage-backed securities (MBB).
Article continues below advertisement
What's the problem now?
Over the last decade, the US government was able to borrow at ultra-low interest rates, and the Fed was one of the biggest buyers. To take advantage of these low rates, the US Treasury issued more short-term debt (SHY) that expires in two to five years. This strategy worked well in the last decade, but when interest rates and deficits are rising together, the cost of funding for the US Treasury is likely to rise substantially. These interest payments are likely to add to the budget deficit in the months and years ahead.
How can these developments impact markets?
The impact of additional borrowing and a higher interest bill would add to the US government's financial burden. The total deficit for 2018 could be over $1 trillion, further increasing the deficit. The higher deficit would mean investors could demand higher interest for the risk they're taking by lending to the deficit-burdened United States through investment in US government securities (GOVT). In the next part of this series, we'll see who's going to lend a trillion dollars or even more per year to the United States.