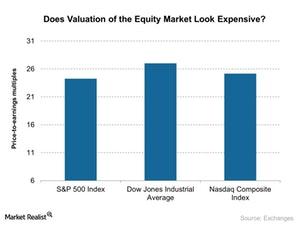 Major Market Risks According to Dan Loeb
By Sarah Sands

Updated
Dan Loeb on earnings growth
Previously, we discussed major market indexes' fall on February 5, 2018. According to CNBC, billionaire investor Dan Loeb weighed in on what could pause the bull market.
The US market has rallied significantly in the past few months. The SPDR S&P 500 ETF (SPY) and PowerShares QQQ ETF (QQQ) rose 19.7% and 32.6%, respectively, in 2017. Still, some investors question whether this rally will continue or stop in the coming months. In spite of various factors, the S&P 500's (SPX-INDEX) earnings growth also played an important role in market movement. Price-to-earnings ratios are important in the assessment of a market's valuation.
If the index's price moves higher, then its earnings growth also needs to move higher to support its valuation. Loeb thinks earnings growth has peaked, and any weakness in earnings growth could be a major market risk.
According to CNBC, Loeb wrote, "The momentum of earnings growth is at a peak and its normalization could create greater volatility compared with the tranquility of 2017." However, many market participants expecting tax reform to add more value to various companies' earnings growth in 2018.
Article continues below advertisement
Loeb on recession
Loeb also added his view on recession, writing, "A recession would come as a surprise to investors and would likely lead to a substantial market decline given the expansion in valuations in recent years and the concern that the Fed would not have enough ammunition to sufficiently stimulate the economy."
Loeb is worried about rising valuation and believes that, by maintaining aggressive rate hikes, the Fed could lose ammunition to stimulate growth in the economy, which could lead to a recession. For more market views, read Barclays CEO: Market Condition 'Feels a Little Bit Like 2006.'