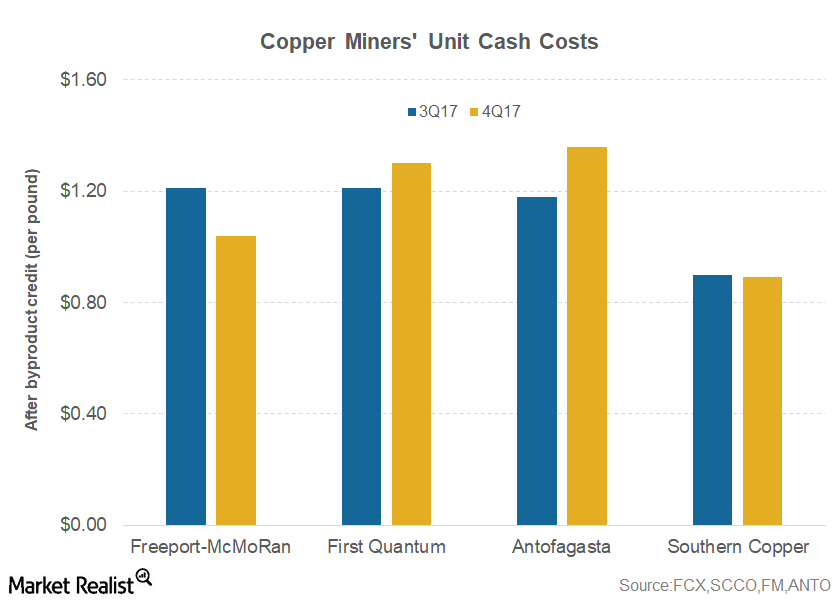 Copper Miners Face Cost Pressure as Input Costs Rise
Input costs
Previously in this series, we looked at copper miners' 4Q17 production profiles and 2018 guidance. In this article, we'll look at their unit production costs. When commodity prices fall, high-cost producers become unprofitable much sooner than their peers, which are placed more favorably on the cost curve. So it's crucial for commodity producers to have competitive cost structures.
Article continues below advertisement
Comparative analysis
Freeport-McMoRan (FCX) reported a unit cash cost before byproduct credits of $1.62 per pound in 4Q17, compared to $1.44 per pound in 4Q16 and $1.57 per pound in 3Q17. However, the company's after byproduct unit cash cost fell to $0.89 per pound in 4Q17 from $1.20 in 4Q16.
Antofagasta's (ANTO) unit cash costs after byproduct credit rose from $1.18 per pound in 3Q17 to $1.36 per pound in 4Q17. The company's unit cash costs before byproduct credit rose from $1.56 per pound to $1.69 per pound over this period.
As you can see, mining companies reported a yearly rise in their before-byproduct unit cash costs. Higher costs could be partially due to rising diesel costs on the back of higher crude oil prices. We should remember that diesel is a key input for copper miners (VALE). Plus, costs for yellow goods—including trucks as well as tires—have also gone up as commodities from steel to rubber have increased over the last two years.
In the next part of this series, we'll look at copper miners' 2018 unit cash cost guidance.