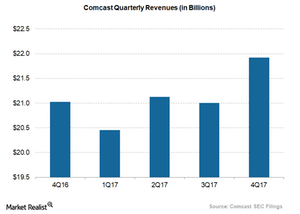 What Comcast's Revenues Are Signaling
By Sophia Nicholson

Feb. 22 2018, Updated 1:00 p.m. ET
Comcast beat revenue expectation in 4Q17
Comcast (CMCSA) boasted revenues of $21.9 billion in 4Q17, which was well above the consensus estimate of $21.8 billion. In 4Q17, its top line rose 4.2% year-over-year (or YoY) from $21 billion in 4Q16. While cable revenues improved 3.4%, NBCUniversal revenues increased 3.9% YoY in the quarter.
In 2017, revenues increased 5.1% YoY to $84.5 billion.
Article continues below advertisement
Revenues improved significantly in 4Q17
In 4Q17, Comcast's cable business revenues rose 3.4% on the back of improvement in high-speed Internet, business services, and video. The company was able to build a strong customer base with new additions in the quarter. While video revenues grew 1.5% in 4Q17, residential video customers declined in the quarter.
Revenue for NBCUniversal rose 3.9% in the quarter. Although the film business didn't do well and its 4Q17 revenues declined 5% YoY, the film division delivered its most profitable year. The theme parks, broadcast, and cable networks divisions all reported YoY revenue growth in 4Q17. It came on the back of new attractions at the parks, higher distribution revenue, and content licensing. NBCUniversal also managed the broadcasts of Super Bowl LII and the 2018 Winter Olympics, which were expected to produce ad sales worth $1.4 billion.
Rivals' revenues
In fiscal 1Q18, which ended in December 2017, revenues for The Walt Disney Company (DIS) rose 4% YoY to $15.4 billion, but that marginally lagged the consensus estimate of $15.5 billion. Time Warner (TWX), on the other hand, reported a top-line growth of 9% to $8.6 billion in 4Q17. Its revenues beat Wall Street's expectations of $8.4 billion. Time Warner is currently waiting for the outcome of a United States Department of Justice lawsuit to block its merger deal with AT&T (T).