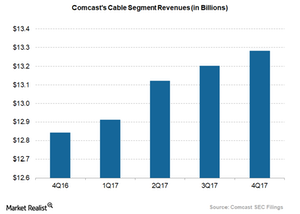 Why Comcast's Cable Revenues Continued to Grow in 4Q17
By Sophia Nicholson

Feb. 22 2018, Updated 2:30 p.m. ET
Cable business rose in 4Q17
Comcast's (CMCSA) cable business generated revenues of $13.3 billion in 4Q17, an increase of 3.4% year-over-year (or YoY). In 2017, the cable segment grew 4.9% YoY to $52.5 billion. Revenues for the segment have been rising for five quarters, as you can see in the chart below. Revenues were mainly driven by strong growth in its business services units, followed by high-speed Internet and video.
The growing popularity of Xfinity Home and rising revenue growth for its X1 licensing agreements also benefited the cable business in 4Q17. However, advertising and voice revenues declined in the quarter.
Article continues below advertisement
Comcast's losing video customers
In 4Q17, Comcast's video revenues rose 1.5% due to an increase in the number of customers subscribing to additional services. However, there was a decline in the number of residential video customers in 4Q17 due to an increase in cord-cutting activity. 
Many pay-TV companies are losing subscribers. Comcast lost 33,000 video customers in 4Q17. Telecommunications behemoth AT&T (T) lost 147,000 satellite TV customers and 60,000 U-verse TV customers in 4Q17.
Over-the-Top market
Traditional cable companies have been losing subscribers since customers are subscribing to OTT (over-the-top) offerings at competitive prices instead of paying higher prices for cable TV.
OTT providers deliver video streaming services at a lower rate than a satellite connection. Through OTT services, customers can directly watch videos over the Internet, thus hurting the growth of traditional pay-TV. This phenomenon has been dubbed "cutting the cord."
Amazon's (AMZN) Amazon Prime, Netflix (NFLX), and Alphabet's (GOOGL) YouTube are some of the services that have increased their OTT offerings.