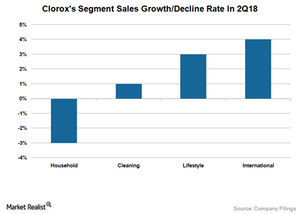 Clorox: Segment Sales Performance in Fiscal 2Q18
By Amit Singh

Feb. 6 2018, Updated 7:35 a.m. ET
What drove the Cleaning segment?
Clorox's (CLX) sales from its Cleaning segment improved 1.0% in fiscal 2Q18,[1. fiscal 2Q18 ended December 31, 2017] driven by higher volumes (+2%). However, the divestiture of the Aplicare business had an impact of -2.0% on the segment's sales growth rate. 
Growth in the Cleaning segment was driven by its continued strength in the home care category. During fiscal 2Q18, the home care category's sales and volume saw a mid-single-digit increase. This increase was driven by higher shipments of disinfecting wipes in the club channel coupled with increased sales of its new Scentiva products.
Article continues below advertisement
Within the Cleaning segment, the laundry category's sales remained flat while volumes improved marginally. The company's liquid bleach products witnessed market share gains in fiscal 2Q18. This increase was driven by growth in its premium Clorox Splash-less bleach coupled with the launch of Clorox performance bleach with Chloromax. 
However, the Professional products category marked a year-over-year decline, reflecting the divestiture of its Aplicare business.
Household segment marked decline
Sales in the company's Household segment fell 3.0%, reflecting volume declines in cat litter, bags and wraps, and charcoal. However, the digestive health business registered double-digit growth, driven by strength in its e-commerce channel.
Sales at the company's Glad bags and wraps business decreased, driven by lower volumes in the club channel. Meanwhile, cat litter volumes were adversely impacted by retailers reducing inventory coupled with lower merchandising in the pet category.
Article continues below advertisement
Lifestyle segment
Clorox's Lifestyle segment's sales and volumes grew 3.0% in fiscal 2Q18. The company's Brita business witnessed double-digit sales growth, driven by increased club channel merchandising and growth in its newly launched stream pitcher and Longlast filters. 
The Burt's Bees category also recorded strong sales and volumes owing to the record shipment of its lip care products. However, food sales decreased within the Lifestyle segment, reflecting declines in K.C. Masterpiece barbecue sauce and lower retailer inventory.
International segment's sales grew 4%
Clorox's International segment's sales grew 4.0% in fiscal 2Q18, driven by higher net price realization. Volumes remained flat as declines in Asia and Latin America offset the improvement in Canada.