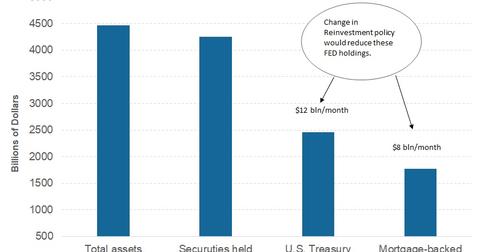 Changes to the Balance Sheet Unwinding Program
By Ricky Cove

Updated
Fed's balance sheet unwinding program
The FOMC, through its implementation note released with the January statement, announced its decision to allow the open market desk at the Federal Reserve Bank of New York to increase the amount of Treasury (GOVT) securities that are being allowed to expire without rolling over every month.
The exercise of trimming the Fed's balance sheet was taken up to offload the huge amount of Treasury securities that the Fed amassed over the last decade through its QE (quantitative easing) programs 1, 2, and 3. These QE programs were intended help the US economy recover from the recession of 2007–2008. The Fed's balance sheet increased from $147 billion in 2008 to its current size of $4.4 trillion due to these exercises.
Article continues below advertisement
Changes to the balance sheet unwinding program
According to the latest communication from the Fed, the pace of the balance sheet unwinding program has been increased from $10 billion per month to $20 billion per month. The amount would be increased by $10 billion in the next quarter and each quarter thereafter until it reaches a monthly pace of $50 billion per month. The ration of the balance sheet cuts would remain the same at 60% for Treasury securities (TLT) and 40% of mortgage-backed securities (MBB).
Will there be an impact on bond markets?
The changes to the balance sheet unwinding program have been communicated in advance to help limit any volatility (VXX) in the markets. The bond market (BND) yields have been rising slowly over the last few weeks. The yields increased marginally after the FOMC's statement was released. The rise in the yields was due to the change in the FOMC's tone, which could lead to three hikes in 2018. Next, we'll discuss the FOMC's view on the economy and unemployment in its January meeting statement.