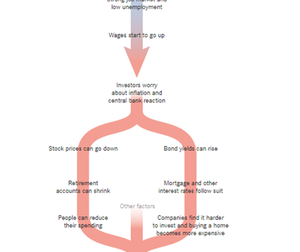 What Caused the Recent Stock Market Carnage?
By Puja Tayal

Updated
The fall of the stock market
Until January 2018, Wall Street was in the middle of a significant multi-year growth, unprecedented in its history. However, the growth hit a roadblock as major stock markets around the world saw a massive sell-off on February 2, 2018, even though there was no negative news or outlook.
The Dow Jones Industrial index (DJIA-INDEX) fell more than 1,500 points on February 5, 2018. JPMorgan Chase's head of US equity strategy Dubravko Lakos-Bujas stated that the market sell-off wasn't related to fundamentals. While it's not clear what triggered the sell-off, analysts found some factors that led to the declines in the stock market.
Article continues below advertisement
Economic effect
Analysts noted that the sell-off started in the United States on February 2, 2018, after the release of the US jobs data. The data showed strong growth in average earnings, which caused fears that the Federal Reserve might increase the interest rate and inflation could rise. When interest rates increase, borrowing becomes expensive, making it difficult for companies to invest in their businesses. These concerns were further aggravated by the expected increase in the budget deficit due to the new tax reform legislation.
However, there were no major concerns about the fundamentals of the US economy. Richard Jerram, chief analyst at the Bank of Singapore, said the sell-off is a natural response to the US jobs data and is likely to last until investors regain confidence. What he didn't comment on was what caused the sell-off in the Asian stock markets.
Article continues below advertisement
One thing led to another
Analysts say that concerns about inflation and interest rate hikes caused US stocks to fall. The decline in US stocks then triggered a sell-off in computer-driven trading, leading to withdrawals from popular ETFs. The sudden decline in stock prices triggered margin calls for investors who purchase stocks with debt. Since investors didn't meet the call, the stocks were sold. The automatic dumping of stocks by risk-parity funds aggravated the sell-off.
One thing led to another, and the stocks that protect against volatility also fell.
That created a climate of uncertainty in the global stock markets, encouraging investors to buy defensive stocks, irrespective of the fundamentals. So cyclical stocks such as Micron Technology (MU), Intel (INTC), and Nvidia (NVDA), which have strong fundamentals, saw their stocks fall 3.5%, 3.5%, and 8.5%, respectively.
Many analysts stated that the sell-off was a correction in the stock market. We'll look at that in the next part of this series.