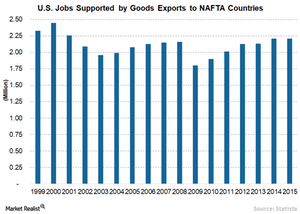 Can Trade War Spook Stock Markets in 2018?
By Peter Barnes

Updated
NAFTA is the first test
The biggest political risk to markets could arise from a trade war that has been playing out ever since Donald Trump came to power. During his campaign, he touted his "America First" agenda, which is now materializing. President Trump has repeatedly threatened to terminate NAFTA (North American Free Trade Agreement), which is important to all three member countries: the US, Canada, and Mexico. According to Business Roundtable, an association of chief executive officers of leading US companies, NAFTA accounts for more than $600 billion in US exports and 12 million jobs.
Article continues below advertisement
Wider implications
There has been much discussion ahead of the NAFTA renegotiation deadline in March. The question arises whether abandoning NAFTA could bolster US economic interests. And the answer seems to be "no." NAFTA's end could pose a real danger to global trade, as it may be seen as the beginning of a US (IVV) trade war with its trading partners, especially China (FXI) and the European Union (VGK).
Is the trade war a reality?
The US has recently imposed tariffs on imported solar panels and washing machines. Solar panels are mainly imported from China while washing machines mainly come from South Korea. Both China and South Korea condemned the steeper tariffs, accusing the US of starting a trade war. Europe also said that it reserves the right to react if US tariffs hit EU exports.
To counter US tariffs, China has opened an anti-dumping and anti-subsidy inquiry into sorghum imports from the US. According to Chinese customs data, the country imported about $1.1 billion worth of sorghum in 2017 from the US. Many believe that China could target agricultural and aircraft imports from the US if the trade war worsens.
Overall, China (MCHI), Canada, Mexico, and the European Union (EZU) are vehemently opposing the US trade protectionism and are likely to react with equal measures. The rising trade protectionism could pose a real danger to stock markets, as it may affect US companies operating in global markets.