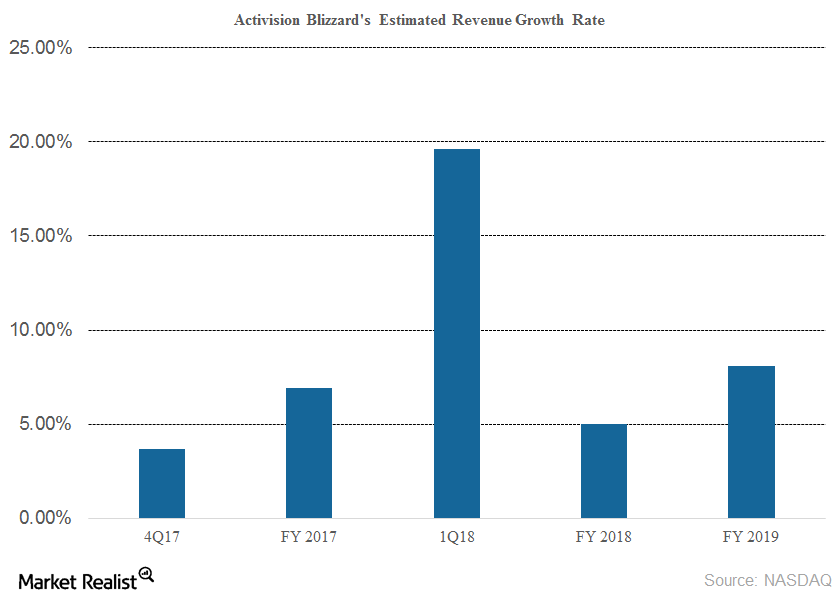 Can Activision Blizzard Continue to Improve Revenue and Profits?
By Adam Rogers

Feb. 6 2018, Updated 10:34 a.m. ET
Revenue expected to rise 6.9% YoY in fiscal 2017
We've seen that Wall Street expects revenue growth of 3.7% YoY for Activision Blizzard (ATVI) in 4Q17. Analysts expect Activision Blizzard's revenues to rise 6.9% YoY (year-over-year) to $7.06 billion in fiscal 2017, compared to $6.6 billion in fiscal 2016. Its revenue is also expected to rise 5% YoY to $7.4 billion in fiscal 2018.
Activision's non-GAAP EPS (earnings per share) could rise marginally by 1.1% YoY in 4Q17 to $0.93 and almost 40% YoY to $0.43 in fiscal 1Q18. In fiscal 2017, analysts have estimated earnings growth of 3.2% YoY to $2.27. Its EPS is estimated to rise ~13.2% YoY in fiscal 2018 to $2.57.
Article continues below advertisement
Activision's revenues could rise 8.4% YoY to $8.03 billion in fiscal 2019 while its EPS could rise 26% that fiscal year. Analysts expect ATVI's revenues to rise at a CAGR (compound annual growth rate) of 14.5% over the next five years, compared to its historical growth of 29.2% in the last five years.
Profit margins
Analysts expect ATVI's net margin to be 14.6% with an operating margin of 34.3% in fiscal 2017. Activision recorded a net margin of 14.6% with an operating margin of 35.4% in fiscal 2018.
Net margins, however, are expected to rise further in 2019 and 2020, driven by ATVI's rise in revenue and digital sales. While analysts expect revenues to rise 5% in 2018, the firm's net margin is expected to rise to 17.6% with an operating margin of 36.8%. ATVI's operating margin and net margin are expected to rise to 39% and 19.7%, respectively, in 2020, compared with its revenue growth of more than 8% YoY.