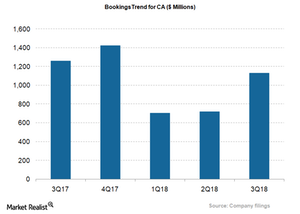 CA Technologies Saw Declining Bookings Momentum in Fiscal 3Q18
By Aaron Hemsworth

Feb. 21 2018, Updated 9:01 a.m. ET
Cause for decline
CA Technologies' (CA) bookings in fiscal 3Q18 fell 10% YoY (year-over-year) to $1.1 billion, mainly due to a decline in renewal bookings, slightly offset by the Automic and Veracode acquisitions. However, on a CC (constant currency) basis, it fell 12% YoY. At the end of the first three quarters of fiscal 2018, its bookings were $2.6 billion against $3.3 billion in the same period last year.
The Mainframe Solutions segment, which is mainly dependent on the International Business Machines' (IBM) Z platform, saw a softness in renewal bookings, which dragged down the company's overall renewal bookings.
In the chart above, you can see the bookings trend in the last five quarters. During the period, it fell at a CAGR (compound annual growth rate) of 2.7%. You can also see that bookings in fiscal 2018 continue to decline.
Article continues below advertisement
Book-to-bill ratio and outlook
In fiscal 3Q18, total bookings from North America were $717 million compared to $809 million in fiscal 3Q17. International bookings were $410 million in fiscal 3Q18 compared to $449 million in fiscal 3Q17.
CA saw nearly $1.2 billion of billings in fiscal 3Q18, which was an 0.8% fall YoY. Its book-to-bill ratio in the reported period was 0.93 compared to 1.0 in fiscal 3Q17. Anything below 1.0 is a concern for the company since it indicates lower demand. In the last three quarters, CA's ratio was below 1.0.
For fiscal 2018, CA projects renewal bookings to decline by a percentage in the high teens against fiscal 2017, mainly driven by the large system integrator transaction that took place in fiscal 1Q17.