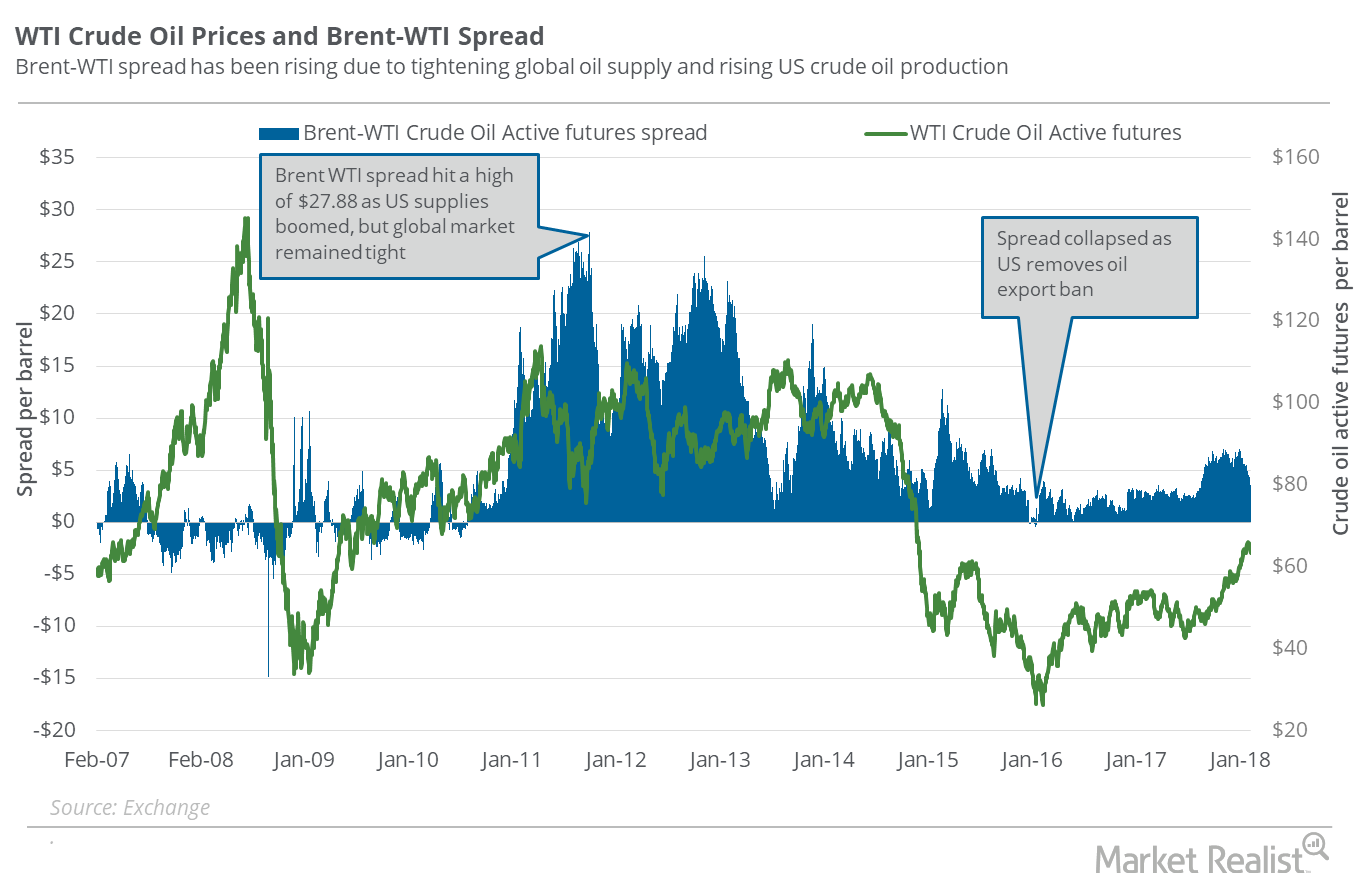 How the Brent-WTI Spread Is Trending
By Rabindra Samanta

Dec. 4 2020, Updated 10:53 a.m. ET
The spread
On February 5, 2018, Brent crude oil active futures closed $3.47 above WTI (West Texas Intermediate) crude oil active futures. On January 29, 2018, this difference (or the Brent-WTI spread) was at $3.9. Between January 29 and February 5, 2018, US crude oil and Brent crude oil futures fell 2.2% and 2.3%, respectively. The United States Oil ETF (USO), an ETF that tracks US crude oil, fell 2.6% in this period. The United States Brent Oil ETF (BNO), an oil ETF that tracks Brent crude oil futures, fell 2.5% during this period.
Article continues below advertisement
Oil exports
In the week ending January 26, 2018, US crude oil exports increased by 354 thousand barrels per day to ~1.8 MMbpd (million barrels per day). On a year-over-year basis, oil exports have more than doubled. Over this time period, the Brent WTI spread rose by 76 cents.
After OPEC members implemented the production cut deal in January 2017, US oil exports rose by ~1.0 MMbpd, which represents 86.5% of OPEC's promised output cut. A surge in US oil exports could harm the market share of global oil exporters, a factor that could force OPEC members to rethink a further extension of the production cut in 2019.
A positive spread would force US oil producers to sell their oil output at a lower rate in the domestic market compared to their international peers. Oil produced in the US usually follows WTI crude oil, while international producers' oil output follows Brent oil prices.
At the same time, the positive spread could benefit refineries stocks. The VanEck Vectors Oil Refiners ETF (CRAK) tracks refinery stocks. Since the Brent-WTI spread fell below the $5 level on January 24, 2018, CRAK fell 8.3%. It was the first time the spread was below the $5 level since November 27, 2017. Cheaper WTI crude oil as input could increase the profit of US refineries, as their output products are benchmarked to Brent crude oil prices.