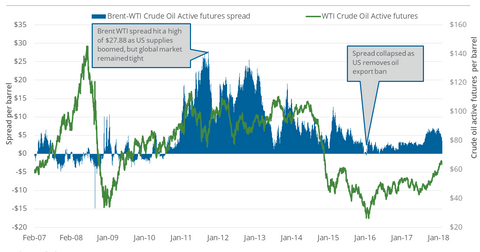 Why the Brent-WTI Spread Is Important
By Rabindra Samanta

Feb. 20 2018, Published 11:02 a.m. ET
The spread
On February 16, 2018, Brent crude oil futures settled $3.16 above WTI crude oil prices. The difference between the closing prices of these two grades of oil, or the Brent-WTI spread, was at $3.6 on February 9, 2018.
Between these two dates, Brent crude oil April futures rose 3.3% and WTI crude oil futures rose 4.3%. Oil ETFs like the United States Brent Oil ETF (BNO) and the United States Oil ETF (USO), which track Brent crude oil and WTI crude oil, respectively, rose 3.4% and 4.4% during this period.
Article continues below advertisement
Oil exports
In the week ending February 9, 2018, US crude oil exports rose by 35 Mbpd (thousand barrels per day) on a week-over-week basis to ~1.32 MMbpd (million barrels per day). From the same period in 2017, oil exports rose by 296 Mbpd, which was accompanied by an expansion of $0.87 in the Brent-WTI spread.
Since January 2017 when OPEC's production cut deal became effective, US oil exports gained 595 Mbpd—approximately 49.6% of OPEC's promised output cut. OPEC's members might rethink the deal before extending it into 2019—a concern for oil bulls.
Impact
US oil producers' revenue from the domestic market might be less than international peers selling to international markets because of the positive Brent-WTI spread. Oil sold in the US is benchmarked to lower WTI crude oil prices, while oil sold in international markets follows higher Brent crude oil prices.
However, the situation is opposite for US refineries' stocks. By blending a higher component of WTI crude oil in the input, US refineries could increase their profits. Refined products like gasoline and heating oil are benchmarked to higher Brent crude oil prices. The difference between these two crude oil benchmarks can be an advantage for US refiners.
The VanEck Vectors Oil Refiners ETF (CRAK), which tracks refinery stocks, has declined 7% since January 24, 2018. On the same day, the Brent-WTI Spread fell under $5 for the first time since November 27, 2017.