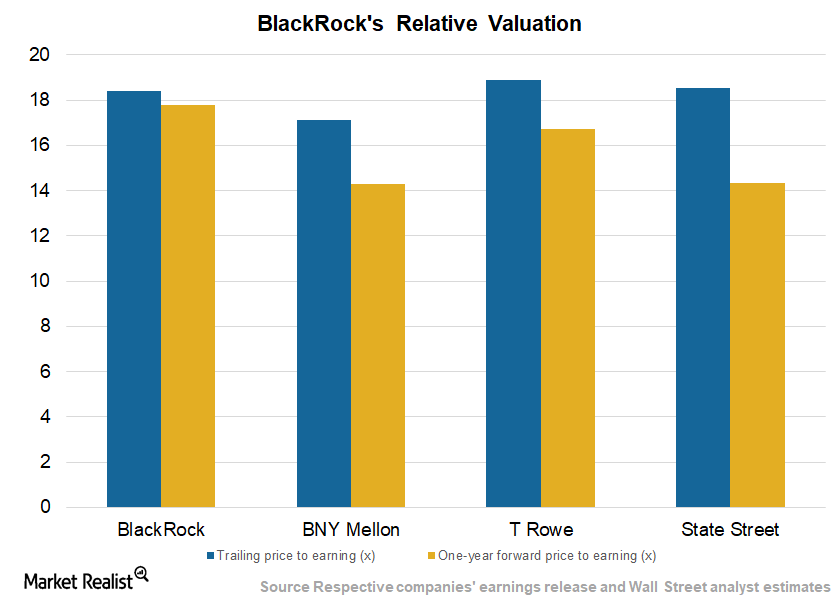 BlackRock's Valuations following the Decline in Global Equities
By Robert Karr

Dec. 4 2020, Updated 10:52 a.m. ET
Valuations post-fall
BlackRock (BLK) stock has risen 27.6% over the past six months and 39.0% over the past year, reflecting high inflows toward the iShares, institutional, and retail categories. In comparison, the S&P 500 ETF (SPY) has risen 16.7% over the past year.
BlackRock's performance in 2018 will depend on macroeconomic factors, the preference of index offerings, and multi-asset category investments. In 2017, it attracted record new flows of $367.0 billion, ~6.0% of its total AUM (assets under management) of $6.3 trillion.
As equities have fallen in recent weeks, BlackRock has returned -3.2% over the past month, allowing for long-term investors to evaluate their investments.
Article continues below advertisement
In the ETF space, State Street (STT) and Vanguard are adding funds alongside BlackRock across equity, debt, and other product offerings. BlackRock is currently trading at a forward PE (price-to-earnings ratio) of 17.1x compared to the industry average of 13.5x. The company continues to garner a premium over other asset managers on its diversified product offerings, global presence, and strong brand equity for active and passive offerings.
BlackRock's peers are trading at the following forward PEs:
Together, these companies make up 3.9% of the Vanguard Financials ETF (VFH).
Active funds demand performance
In an atmosphere of high volatility, demand for active funds could increase in 2018. Demand for performing active funds is expected to be high, with strong flows coming from institutional investors. BlackRock garnered $2.9 billion in investment advisory fees in 4Q17, a 16.5% rise compared to the prior year's period. The company's performance fees rose to $285.0 million on active fund offerings. This amount could rise subject to the performance of BlackRock's active fund offerings.
BlackRock's investments in technology, operating efficiencies, and low-cost passive fund offerings have helped it command higher flows and valuations. This trend could continue on the performance of its active funds and the demand for low-cost ETFs.