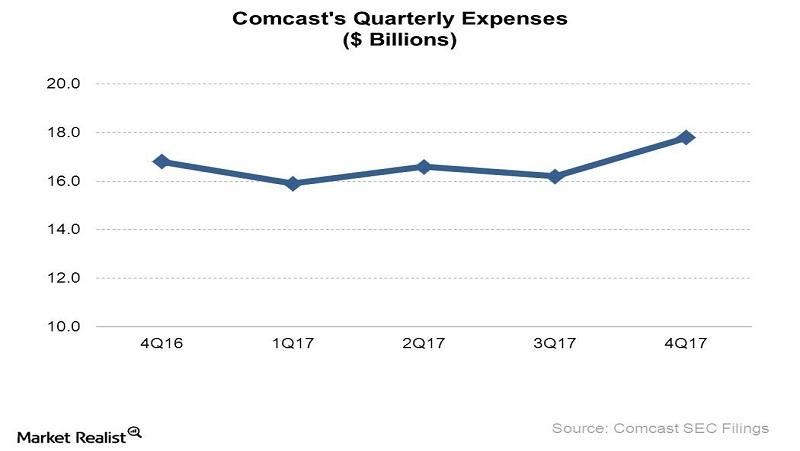 Behind the Comcast-Amazon Cloud Contract
By Ruchi Gupta

Mar. 2 2018, Updated 7:31 a.m. ET
Running most of cloud workloads on AWS
Comcast (CMCSA) is expanding its cloud computing relationship with Amazon.com's (AMZN) AWS (Amazon Web Services). AWS is the world's top cloud vendor, commanding over 30% of the worldwide cloud computing market, according to Synergy Research.
In expanding its cloud relations with AWS, Comcast's Cable division named AWS its preferred cloud provider. As organizations shift workloads to the cloud, many are purchasing cloud computing services from more than one supplier for a multi-cloud strategy. This strategy can be seen in the cases of Snap (SNAP) and Apple, which run workloads on both AWS and Alphabet's (GOOGL) Google Cloud.
Selecting AWS as its preferred cloud provider thus appears to signal that while Comcast Cable may maintain a multi-cloud strategy, most of its cloud workloads will run on AWS.
Article continues below advertisement
Cost-cutting opportunity
The allure of cloud computing for enterprises includes opportunities to simplify operations and cut costs. So the deepening of its relationship between Comcast and AWS seems to be based on these factors.
A recent joint statement from Comcast and Amazon stated: "Comcast's primary businesses, Comcast Cable, and NBCUniversal, are currently running workloads on AWS, which has enabled these businesses to become more nimble."
Expenses rose faster than revenue
At this point, while Comcast is fighting off competition from Netflix (NFLX) in the television market and working to diversify its revenue streams by expanding into mobile services, an opportunity to cut costs would likely be highly appreciated.
Comcast's expenses rose about 6.0% YoY (year-over-year) in 4Q17, which was faster growth than its revenues, which rose 4.3% YoY during the same quarter.