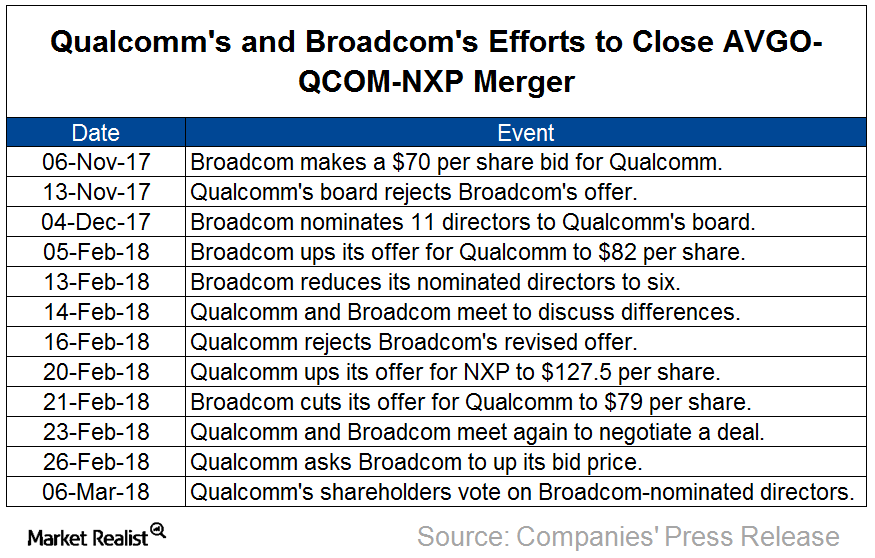 Behind Qualcomm's Battle to Defend Broadcom's Hostile Takeover
By Puja Tayal

Feb. 27 2018, Updated 11:15 a.m. ET
Broadcom is determined to buy Qualcomm
So far in this series, we've seen that Qualcomm (QCOM) is determined to acquire NXP Semiconductors (NXPI) and that Broadcom (AVGO) is determined to acquire Qualcomm. This three-way merger has seen many revised offers. All this drama will likely come down to a final showdown on March 6, 2018, when Qualcomm shareholders vote for or against six Broadcom-nominated directors. If these directors are elected, they would be able to override the current Qualcomm board's opposition to Broadcom's offer.
Article continues below advertisement
On November 6, 2017, Broadcom made its first unsolicited bid to acquire Qualcomm for $70 per share, $60 in cash and $10 in stock, which was rejected by Qualcomm's board in just one week. Broadcom then resorted to hostile moves and nominated 11 directors for Qualcomm's board, which it later reduced to six.
On February 5, 2018, Broadcom raised its offer for Qualcomm to $82 per share and offered other concessions including an $8 billion termination fee, the biggest in acquisition history.
Qualcomm defends Broadcom's hostile takeover
Qualcomm met with Broadcom for the first time to discuss the differences between the two. Qualcomm agreed to meet only on the condition that Broadcom would be willing to talk about a higher bid and explain its strategy to secure approvals from global regulators. However, Broadcom refused to raise its offer above $82.
In a letter, Qualcomm rejected Broadcom's revised bid of $82 per share on the grounds that the price excludes the value that the pending NXP acquisition, the settlement of patent licensing disputes with Apple, and 5G would bring.
Key points of Qualcomm's letter are as follows:
Qualcomm stated that the $82 bid highly undervalues the company.
Broadcom refused to agree to commitments that some regulators might require.
The company didn't reveal what it intends to do with Qualcomm's licensing business, making it difficult to estimate the antitrust measures that might be required.
Broadcom also demanded the right to make material decisions for Qualcomm's licensing business during the period of the closing of the acquisition, which is against antitrust laws.
However, Qualcomm stated that it was open to further discussions to agree on an offer that values its company appropriately and ensures the certainty of the deal.
On the same day, a CNBC report, citing people familiar with the matter, stated that Goldman Sachs was contacting NXP's large shareholders to find out the price they would be willing to sell their shares for. Continue reading to know what happened next.