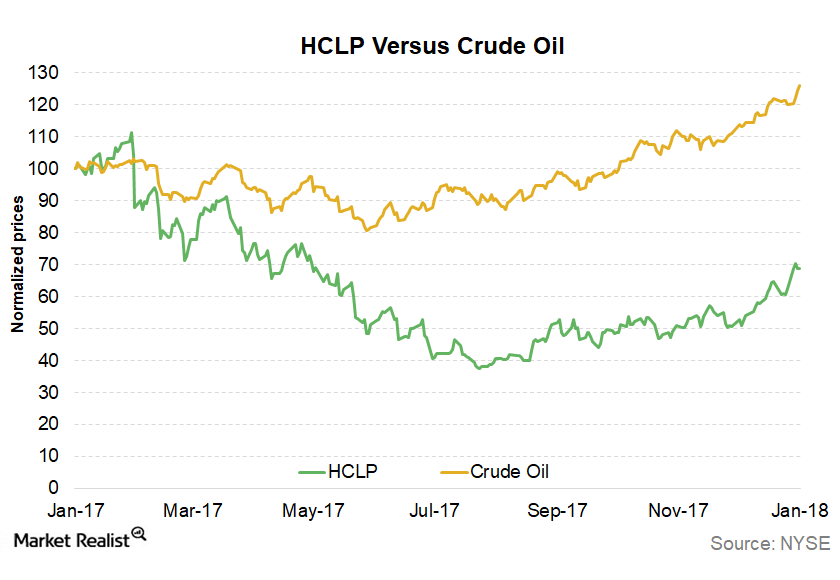 Behind Hi-Crush Partners' High Correlation with Crude Oil
By Kurt Gallon

Feb. 9 2018, Published 1:44 p.m. ET
Hi-Crush Partners versus crude oil
Hi-Crush Partners (HCLP), a frac sand producer, has low direct commodity price exposure. However, Hi-Crush Partners still has a high correlation with crude oil. The one-year correlation between Hi-Crush Partners and crude oil was 0.47 as of February 6, 2018. 
Hi-Crush Partners' high correlation with crude oil, despite its low commodity prices exposure, could be attributed to its heavy dependence on production activity. Higher the production activity means that Hi-Crush Partners' frac sand volumes are higher. Production activity depends on crude oil prices.
Despite crude oil volatility, US production activity continues to stay strong—particularly in the Permian region. According to Baker Hughes, the rig count in the Permian region was 427 as of February 6, 2018—compared to 385 by the end of 3Q17 and 398 by the end of last year.
Article continues below advertisement
Analysts' recommendations
For Hi-Crush Partners, ~85.7 of the analysts rated it as a "buy," while ~14.3% rated it as a "hold." Hi-Crush Partners' average target price of $15.5 implies ~37% upside potential from the current price levels.
Next, we'll discuss the correlation between EnLink Midstream (ENLC) and crude oil.