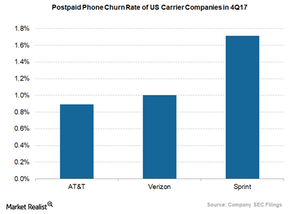 What Does AT&T's Low Postpaid Phone Churn Rate Suggest?
AT&T is witnessing a decline in postpaid phone churn
AT&T (T) is focusing on reducing its postpaid phone churn rate, as lower churn rates are favorable for telecom companies. During the recent 4Q17 earnings conference call, AT&T management pointed out that the company's postpaid churn rate had significantly improved YoY (year-over-year). AT&T reported a postpaid phone churn rate of 0.89% in 4Q17 compared with 0.98% in the year-ago quarter.
Article continues below advertisement
Postpaid churn rate in comparison to peers
It's unfavorable for telecom companies to have a high postpaid phone churn rate, because then they have to bear the added acquisition costs related to customers. A higher postpaid churn rate further hurts companies' operating margins.
If we compare the top four most significant telecom players in the US, AT&T topped the postpaid phone customer retention race in 4Q17 followed by its rival Verizon (VZ). In 4Q17, Verizon and AT&T had postpaid phone churn rates of 1.0% and 0.89%, respectively. Sprint (S) posted a postpaid phone churn rate of 1.7% in 4Q17.
Competition hurts postpaid phone subscribers
AT&T has been facing sluggish postpaid phone subscriber additions for the past few quarters. AT&T's management noted that the decline in postpaid phone subscribers was due to intensifying competition from various attractive data plans from rivals T-Mobile (TMUS) and Sprint. Nevertheless, AT&T now has plans to offer attractive unlimited data plans to grow its customer base. In 4Q17, AT&T added 329,000 postpaid phone customers as against 67,000 customers lost in 4Q16.