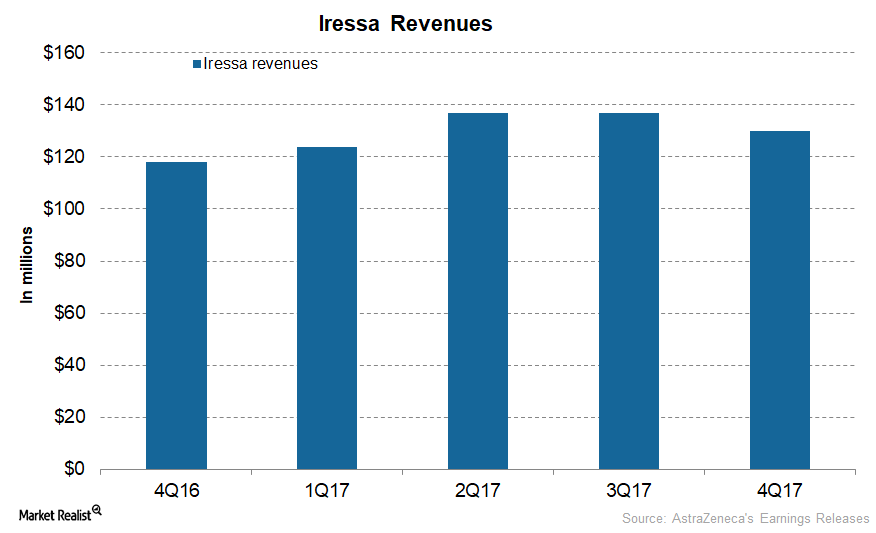 How AstraZeneca's Iressa and Imfinzi Performed in 4Q17 and 2017
By Daniel Collins

Mar. 1 2018, Updated 10:32 a.m. ET
Iressa's revenue trends
In 4Q17, AstraZeneca's (AZN) Iressa generated revenues of $130.0 million, which reflected ~10.0% growth on a year-over-year (or YoY) basis and a 5.0% decline on a quarter-over-quarter basis. In fiscal 2017, Iressa reported revenues of $528.0 million, which is ~3.0% growth on a YoY basis.
In the emerging markets, Iressa reported revenues of $251.0 million in 2017, which reflected ~8.0% growth on a YoY basis. In 2017, Iressa generated revenues of $144.0 million from China, which is ~24.0% YoY growth. The inclusion of Iressa in the National Reimbursement Drug List contributed to the revenue growth in China.
In the US market in 2017, Iressa generated revenues of $39.0 million, which is ~70.0% growth on a YoY basis. However, in Europe, Iressa witnessed a 7.0% decline and reported revenues of $112.0 million.
Article continues below advertisement
Imfinzi's revenue trends
In 4Q17, Imfinzi reported revenues of $18.0 million. In 2017, Imfinzi generated net revenues of $19.0 million. Iressa was launched in the US market in May 2017 and is also approved in Canada, Brazil, and Israel.
Recent developments
In February 2018, the FDA approved Imfinzi for the treatment of individuals with unresectable stage III NSCLC (non-small cell lung cancer) who did not show disease progression after platinum-based chemotherapy and radiation therapy.
The FDA approval of Imfinzi was based on the results of the Phase 3 PACIFIC trial. AstraZeneca's press release on February 18, 2018, noted, "Imfinzi demonstrated an improvement in median PFS of 11.2 months compared to placebo, representing a 48.0% reduction in relative risk of progression or death vs. placebo in all patients, regardless of PD-L1 status." 
To learn more about these clinical trial results, please read US FDA approval of Imfinzi for NSCLC.
Some important drugs in the marketplace in use for the treatment of NSCLC include Bristol-Myers Squibb's (BMY) Opdivo, Merck's (MRK) Keytruda, Celgene's (CELG) Abraxane, Roche's (RHHBY) Avastin, and Eli Lilly's Cyramza.