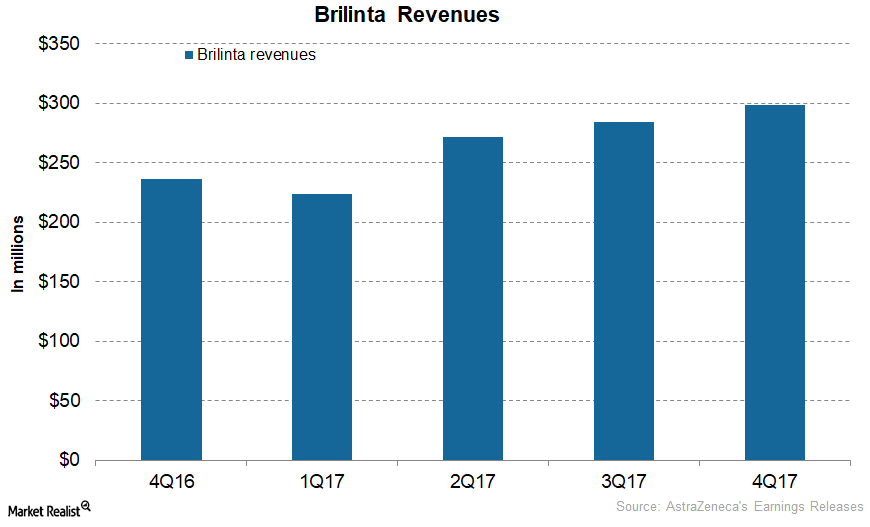 AstraZeneca's Brilinta Reported High Growth in 2017
By Daniel Collins

Mar. 2 2018, Updated 9:01 a.m. ET
Brilinta's revenue trends
In 4Q17, AstraZeneca's (AZN) Brilinta reported revenues of $299.0 million, which reflected ~27% growth on a year-over-year (or YoY) basis and ~5.0% growth on a quarter-over-quarter basis.
In fiscal 2017, Brilinta reported revenues of $1.1 billion, which reflected ~29.0% growth on a YoY basis.
Article continues below advertisement
Brilinta's regional performance
In 2017, in the emerging markets and European markets, Brilinta reported revenues of $224.0 million and $295.0 million, respectively, which reflected ~19.0% and ~14.0% YoY growth.
In the US market in 2017, Brilinta reported revenues of $509.0 million which is ~46.0% YoY growth. A rise in the average duration of therapy, as well as the increasing number of patients discharged from hospital and sent to home with Brilinta, primarily contributed to the revenue growth of the drug in 2017 in the US market. 
Recently updated guidelines of the American College of Cardiology and American Heart Association in 2016 turned out to be favorable for Brilinta. Brilinta is recognized as a standard of care therapy for the treatment of STEMI (ST-segment elevation myocardial infarction). In 2017, Brilinta was the market-leading branded oral antiplatelet drug in the United States.
Recent developments
In February 2018, AstraZeneca presented new sub-analysis data from the Phase 3 PEGASUS-TIMI 54 trial. According to AstraZeneca's press release on February 7, 2018, in the PEGASUS-TIMI 54 trial, individuals who survived a heart attack and had stenosis due to the multi-vessel disease on treatment with Brilinta demonstrated a 19.0% reduction in MACE (major adverse cardiac events) and a 36.0 % reduction in coronary death.
The superior data from the clinical trial is expected to strengthen Brilinta's commercialization capabilities. In the platelet inhibitor drugs market, Brilinta's peers include Bristol-Myers Squibb's (BMY) and Sanofi's (SNY) Plavix, and Eli Lilly's (LLY) Effient.