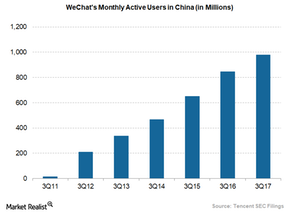 How Apple Resolved the Tip Issue with Tencent's WeChat
By Sophia Nicholson

Feb. 5 2018, Published 2:53 p.m. ET
Apple and Tencent resumed tipping content creators
Apple (AAPL) and Tencent have reached a mutual understanding in which WeChat users in China can give tip-style payments to content creators. Tencent's WeChat is a social media and mobile payments app that's popular in China, reporting a user base of nearly 1 billion.
Article continues below advertisement
The controversy
WeChat's tipping feature became a subject of discussion after Apple discontinued the service in 2017 due to a misconception related to the WeChat tip feature.
According to Tencent, WeChat users are required to send tips or gifts to WeChat content creators for an enjoyable experience. In China, tips or gifts reflected the customary way of directly rewarding stars to content producers for entertaining users.
However, Apple argued that its tipping feature was similar to in-app purchases, and it wanted to receive 30% of the revenues from donations. Apple doesn't allow app developers and owners to charge for a service unless Apple gets its share.
After months of discussion, WeChat's creator, Allen Zhang, announced at a developers' conference in Guangzhou that the two companies had reached an agreement that would allow these transfers to resume. WeChat is expected to tweak the platform so these tips would be paid to individual content creators.
Rule change led to removal of apps in China
China is home to some of the world's most stringent Internet censorship laws, and foreign media remains under tremendous scrutiny. Some apps have been removed or disabled in China because they feature encryption protocols that make messages harder for the government to monitor.
In November 2017, Apple had to remove Microsoft's (MSFT) Skype app from its China Store following a government notification. Alphabet's (GOOGL) Google, Facebook (FB), and Twitter (TWTR) are all banned in China.