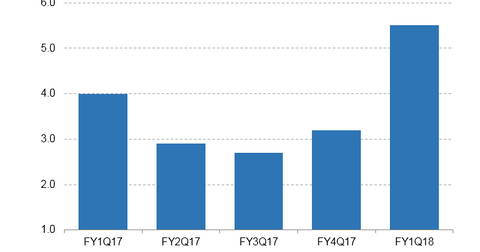 Apple-Goldman Sachs Talks: Could There Be Revenue Sharing?
By Ruchi Gupta

Updated
Apple's investment banker
With reports emerging that Apple (AAPL) and Goldman Sachs (GS) are in talks focused on extending loans to Apple customers, some investors are wondering whether revenue sharing will be part of the deal.
Apple and Goldman Sachs are no strangers. According to The Wall Street Journal, Goldman Sachs is Apple's investment banker, and it has helped the iPhone maker raise tens of billions of dollars.
Before an opportunity opened in December for American multinationals to repatriate their offshore profits at a reduced tax rate, Apple had been borrowing to finance programs ranging from shareholder rewards to environmental efforts.
Article continues below advertisement
Goldman Sachs looking for growth in retail banking
Apple and Goldman Sachs may have come to a moment where they want to expand beyond their investment banker–client relationship.
Goldman has embraced retail banking to try to beat slowdown and increased competition in its traditional areas such as trading. In 2016, the bank launched a consumer-focused online lending platform, Marcus, taking on LendingClub (LC) and other alternative credit providers such as PayPal (PYPL), Amazon (AMZN), and Square (SQ).
Apple has the numbers Goldman Sachs may want
Apple's customer base, which includes hundreds of millions iPhone users, presents a potential market that Goldman Sachs could tap into to grow its retail banking business. Apple may need Goldman Sachs to supply loans to Apple customers so that they can buy more of its products or upgrade more frequently.
With each player having something to bring to the table, a revenue-sharing arrangement could emerge from the ongoing talks between the companies. For Apple, a revenue-sharing deal with Goldman Sachs could boost its other revenue. Apple's other product revenue rose 36% year-over-year to $5.5 billion in fiscal 1Q18 (its December quarter).