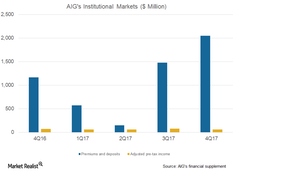 Analyzing AIG's Institutional Markets Business Performance in 4Q17
By Raymond Anderson

Feb. 27 2018, Updated 10:31 a.m. ET
Total adjusted revenues
The total of American International Group's (AIG) premiums, advisory fees and other income, policy fees, and net investment income equals its Institutional Markets segment's total adjusted revenues. 
The segment generated total adjusted revenues of $1.2 billion in 4Q17 compared to $340.0 million in 4Q16. The segment's premiums rose substantially from $142.0 million in 4Q16 to ~$1.0 billion in 4Q17.
AIG's Institutional Markets segment witnessed a marginal rise in its net investment income from $152.0 million in 4Q16 to $160.0 million in 4Q17. However, the segment's policy fees witnessed a decline in 4Q17 compared to 4Q16. In 4Q17, policy fees were $42.0 million, which was a decrease from $46.0 million in 4Q16.
Article continues below advertisement
Assets under management
Making effective use of the available opportunities in the product lines (which consists of its pension risk transfer business) in 4Q17 helped the Institutional Markets segment. However, favorable momentum in its sales positively impacted its net investment spread as well as assets under management (or AUM). After the deduction of benefits, losses, and expenses from total adjusted revenues, the segment's adjusted pretax income is calculated.
The Institutional Markets segment posted adjusted pretax income of $60.0 million in 4Q17 compared to $73.0 million in 4Q16. The segment saw a rise in premiums and deposits from $1.1 billion in 4Q16 to $2.0 billion in 4Q17.
AIG's EV-to-EBITDA[1. enterprise value to earnings before interest, tax, depreciation, and amortization] multiple stood at ~12.3x on an LTM (last-12-months) basis. Among its peers (XLF), RenaissanceRe Holdings Limited (RNR), Aspen Insurance Holdings (AHL), and Hartford Financial Services (HIG) reported EV-to-EBITDA multiples of 85.6x, ~8.8x, and ~7.8x, respectively, on an LTM basis.